LHV Pensionifond XS
Active Management • Conservative Strategy
0%
100%
Invests into Estonia
Suitable if
you have less than 3 years left until retirement,
you have low risk tolerance,
your aim is to preserve your savings and avoid losses.
Strategy
At least 90% of the Fund's assets are invested in investment grade bonds, money market instruments traded on a regulated market, deposits, shares or other assets of other investment funds investing mainly in the above assets and other assets. The money raised for retirement remains stable. The assets of the Fund are invested in compliance with the rating restrictions imposed on the conservative pension fund by law. The long-term preferred asset class of the fund is low-risk debt instruments.
Performance
The Fund's return is expressed as the net yield after deduction of all fees.
Current asset allocation

Information about the fund

Expenses

Documents

Fund's fortunes

Market overview
Biggest investments
The data is presented as at 29.02.2020
| Biggest investments | |
| --- | --- |
| German Government 1.5% 04/09/22 | 4.21% |
| Czech Republic 3.875% 24/05/22 | 3.95% |
| Temasek 0.5% 01/03/22 | 3.89% |
| Riigi Kinnisvara 1.61% 09/06/27 | 3.52% |
| Slovakia 3.375% 15/11/24 | 3.44% |
| Transpordi Varahaldus 2.85% 18/04/25 | 3.08% |
| DT 03/04/20 | 2.92% |
| BNP Paribas 2.875% 24/10/22 | 2.91% |
| Bank of America 04/05/23 | 2.80% |
| ALTUMG 1.3% 07/03/25 | 2.54% |
Biggest investments in Estonia
| Biggest investments in Estonia | |
| --- | --- |
| Riigi Kinnisvara 1.61% 09/06/27 | 3.52% |
| Transpordi Varahaldus 2.85% 18/04/25 | 3.08% |
| Elering 0.875% 03/05/2023 | 2.26% |
The data is presented as at 29.02.2020.
Information about the fund
| Information about the fund | |
| --- | --- |
| Volume of the fund (as of 29.02.2020) | 22,795,007.11 € |
| Management company | AS LHV Varahaldus |
| Equity in the fund | 110 000 units |
| Rate of the depository's charge | 0,0564% (paid by LHV) |
| Depository | AS SEB Pank |
Entry fee: 0%
Exit fee: 0%
Management fee: 0.504%
Success fee: no commission
Ongoing charges (inc management fee): 0.61%
Ongoing charges are based on expenses for the last calendar year, ie 2019. Ongoing charges may vary from year to year.
February 2020 – Investors sought protection against the virus from government bonds
Romet Enok, Fund Manager
Fear concerning the impact of coronavirus on the global economy led to movements last month, which were quite foreseeable given the situation: the prices of government bonds rose, while weaker corporate bonds in particular posted significant losses. In Europe, this movement ranged from +0.5% in the government bond market to −2% for companies with a lower rating.
In February, we sold one of the fund's biggest (and most highly-rated) investments: long-term French government bonds. The price paid for the seven-year bonds will result in a −0.4% return for the buyers, if kept to maturity.
A considerable portion of the total assets of the fund have been placed in highly-rated short-term liquid bonds. Firstly, it protects against the current situation and secondly, it enables new investments to be made as soon as attractive possibilities occur.
January 2020 – Šiaulių bankas financed a purchase transaction with bonds
Romet Enok, Fund Manager
Šiaulių bankas announced that they have concluded a contract in order to purchase a loan portfolio from the Lithuanian branch of Danske Bank. The 125 million euro portfolio, mainly consisting of home loans, is related to private banking clients. In order to finance its growth, Šiaulių issued subordinated bonds for LHV pension funds at the end of December in the amount of 20 million euros and at an interest rate of 6.15%.
At the same time, European bond markets showed a positive result in January for the first time since last summer. As this was the reaction of investors to the spreading of the coronavirus in China, the outlook for international bond markets remains unattractive.
December 2019 – We invested in the bonds of Šiaulių Bankas
Romet Enok, Fund Manager
At the end of December we reached an agreement with Šiaulių Bankas, the fourth largest bank in Lithuania, on the basis of which LHV's pension funds invested in the company's long-term bonds. The annual interest rate on the bonds is 6.15%, the final term is in ten years, and the bank reserves the right to repay these prior to the deadline in December 2024.
Šiaulių Bankas has since grown in such a manner that it serves 7-8% of the Lithuanian banking market. The bank's biggest shareholder remains the European Bank for Reconstruction and Development (EBRD), which holds more than 25% of its shares. Long-term bonds help to fulfil the bank's capital requirements, thereby allowing them to grow their loan portfolio.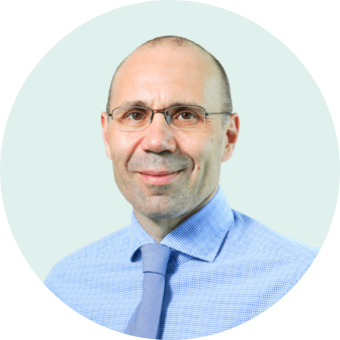 Stock markets sailed into unknown waters
Andres Viisemann, Head of LHV Pension Funds
While 2019 surpassed expectations in terms of corporate profits on stock markets, this year, profit growth may once again be disappointing. International trade was already at a standstill prior to the spread of the coronavirus, and even the global economy was expected to slow down to some extent.
The more modest recession of January was followed by a stronger sell-off In February: in the second half of the month, the spreading of coronavirus outside China began to abruptly cool the economic optimism of market participants. Capital, which had moved into shares last year based on the belief that the loose fiscal policy of central banks would be able to provide stimulus, was now suddenly seeking a way out, as central banks are unable to resolve the problems caused by the virus.
The Stoxx 600 Index, which gathers the shares of European companies, fell by 8.5% in fear of a new recession, and the S&P 500 index, which includes the biggest US companies, lost 8.4% of its value (7.7% measures in euros). As we have preferred to keep the equity risk low over the past few years when it comes to managing pension assets, and have focused on OTC transactions when searching for a rate of return, the fall of stock markets was reflected much more modestly in the value of LHV's pension fund units. To see how things have turned out for Estonian pension funds, one can take a closer look at the website of AS Pensionikeskus.
A "white swan" instead of a "black swan"?
In his article, published in Project Syndicate on 17 February, Nouriel Roubini described risks that clearly exist, but which are being deliberately ignored by investors. He defined these risks as "white swans" as opposed to "black swans", described by Nassim Nicholas Taleb, i.e. events and risks that we cannot or are even unable to imagine.
It has seemed to me, for a longer period of time already, that investors expect central banks to ensure them a risk-free and prosperous future regardless of whether or not the economy grows or companies generate profit. The beginning of this year can serve as a wake-up call of sorts, bringing us out of our dream world: in essence, it is impossible to spend indefinitely and live on credit.
Therefore, LHV pension funds remain carefully positioned in terms of the outlook for the near future. We are focusing on private equity investments, Baltic commercial property, and financing projects.
The fall of the stock market was used in February to increase the positions open to gold. We view this as an insurance policy, given an environment where central banks and governments are attempting to speed up inflation and real interest rates may remain negative for a longer period of time.
However, just as the mood on the stock markets tends to become too perky from time to time, at some point unexpected negative events may cause the opposite to occur. The positions of the funds provide sufficient liquidity in short-term high-rated bonds to ensure that we can grasp attractive possibilities emerging in the event of the further decline of the stock markets.
We are turning the funds towards higher rates of return
In accordance with the Investment Funds Act, adopted in December 2018, LHV has slightly adjusted the investment strategies of pension funds during the last year. At the same time, we have tried to make sure that there is no change in the reciprocal comparable levels of risk between funds.
While LHV pension funds followed a similar investment strategy in the past, and differed from one another only by risk level, then over the past year we have redesigned the strategies of our pension funds in such a way that, at the moment, funds M, L and XL are able to almost completely avoid bonds offering a negative rate of return. We are slowly exiting this segment, and in February we also took advantage of the continued rise in price of listed bonds to sell.
Pension fund M is focussed on bonds offering a high rate of return and cash-flow generating real estate. At the same time, attention is paid primarily to the local market. Pension fund XL is committed to international markets, where we currently prefer a selection of private equity funds; however, we are also ready to invest in liquid assets in the event that the price level becomes more attractive. LHV's largest pension fund, L, is active on both local as well as international markets, combining the strategies of the M and XL funds.
Starting from autumn 2019, these three funds have, in essence, been free to place the sum of their assets into equities and real estate.
The investments of pension fund XS, the lowest risk pension fund at LHV, are 90% restricted to bonds with an investment-grade credit rating, while 10% of the fund's value can be invested in real estate, related securities or riskier bonds. Pension fund S, which previously invested solely in bonds, may now place up to 25% into investments bearing an equity risk and there are no rating restrictions on the investments in bonds.
We at LHV are convinced that the long-term growth of an investment depends primarily on the cash flow provided by the project or enterprise. Companies that are profitable, and whose profit-generating ability is more stable, hold up better in complicated circumstances than those with a weaker cash flow, which are dependent upon the trust and sentiment of creditors.
We are committed to beating the growth of social tax revenues set as the target by the government, which in turn can be compared to the nominal economic growth of the Estonian economy. However, one of my very own investment principles has always been that in order to achieve a long-term rate of return, we must avoid huge losses. I believe that the economy is cyclical in nature and not all moments are equally good for investing. Tough times are followed by better times, and we need to work and struggle in the name of results.
While 2019 surpassed expectations in terms of corporate profits on stock markets, this year, profit growth may once again be disappointing. International trade was already at a standstill prior to the spread of the coronavirus, and even the global economy was expected to slow down to some extent.