Growth Account is the easiest way for long-term investment
You can invest starting from EUR 1 in both index funds and stocks
Payments can be either regular or one-time
Make payments conveniently with the aid of micro-investments
We perform securities transactions on your behalf
Conclusion of an agreement is free of charge
There is also no management fee in the first year
Now, in addition to funds, popular US stocks can also be selected for the Growth Account portfolio.
Alphabet • Amazon • Apple • Berkshire Hathaway • Coca Cola • Meta Platforms • Microsoft • Pfizer • Tesla Motors • Visa
A Growth Account is flexible and easy to open
Transfer money to your account
You can transfer money to the Growth Account at any time and in any amount that suits you.

Sign a standing payment order to make regular investments. You can change the amount you invest at any time, and you can take a break on standing payments if you need to.

Activate micro-investing
Activate micro-investing, which allows you to grow your investment portfolio unnoticed. With each debit card payment, you invest up to EUR 1 in your own Growth Account.

Transactions take place automatically
The money in your Growth Account will be used to buy new securities for your portfolio on Wednesdays between 11.00 and 19.00.
Selection of securities for automatic investments
Alphabet • GOOGL

Alphabet is Google's parent company and one of the most successful U.S. tech companies

Amazon • AMZN

Amazon.com is a major e-commerce, cloud and streaming company

Advanced Micro Devices • AMD

An American semiconductor manufacturer developing computer processors and related technologies for business and consumer markets

AT&T • T

The world's largest telecommunications company and the third largest provider of mobile phone services in the USA

Apple • AAPL

Apple is the world's largest information technology company, the manufacturer of iPhone and Macintosh computers

Berkshire Hathaway • BRKB

Berkshire Hathaway is the world's most famous holding company, run by Warren Buffet

Boeing • BA

Boeing Company, together with its subsidiaries, designs, develops, manufactures, sells, serves and provides support for commercial aircraft, military aircraft, satellites, missile defence, human spaceflight and launch systems, and services around the world

Coca-Cola • KO

Coca-Cola is the world's most popular soft drinks manufacturer and distributor

DSV • DSV

A Danish transport and logistics company that provides transport services worldwide by road, air, sea and rail

Equinor • EQNR

A Norwegian state-owned international energy company headquartered in Stavanger. It is mainly an oil company that operates in 36 countries and additionally invests in renewable energy.

Exxon Mobil • XOM

An American international oil and gas corporation that is vertically integrated across the entire oil and gas industry, and it also includes a chemistry department, which produces plastic, synthetic rubber and other chemical products

Fortum Oyj • FORTUM

The Finnish state-owned energy company Fortum operates power plants, including cogeneration plants, and produces and sells electricity and heat

General Electric • GE

An American energy company that operates primarily in four segments: energy, renewable energy, aviation, and healthcare

IBM • IBM

IBM manufactures and sells computer hardware and software, as well as provides hosting and consulting services from mainframe computers to nanotechnology

Intel • INTC

Intel Corporation is engaged in the design, production and sale of computer products and technologies around the world

JP Morgan Chase • JPM

JPMorgan Chase is the largest bank in the United States of America; it is the world's largest bank in terms of market capitalisation, and the fifth largest bank in the world in terms of total assets

McDonald's • MCD

McDonald's is the world's largest restaurant chain with more than 40,000 fast food restaurants around the world

Meta Platforms • META

Meta Platforms is the parent company of Facebook, Instagram, WhatsApp and others

Microsoft • MSFT

Microsoft is a U.S. technology company that mainly manufactures software and electronics

Moderna Inc • MRNA

An American pharmaceutical and biotechnology company that focuses primarily on mRNA vaccines

Netflix • NFLX

US film streaming service and content production company

NVIDIA • NVDA

Nvidia is a software company that designs graphics processing units (GPUs), application programming interfaces (APIs) for data science and high-performance computing, and systems-on-chip (SoC) for mobile computing and the automotive industry. Nvidia is a global leader in AI hardware and software.

Paypal Holdings • PYPL

A fintech company that operates an online payment system and provides an electronic alternative to traditional payments

Pfizer • PFE

Pfizer is a popular pharmaceutical company and biotechnology company

Shell Plc • SHEL

A British international oil and gas company headquartered in London. It is one of the "corporate giants" in oil and gas, and consistently one of the largest companies in the world in terms of revenue and profits.

Swedbank A • SWEDA

Swedbank is a Nordic and Baltic banking group based in Stockholm, Sweden, which offers retail banking, asset management, financial and other services

Tesla Motors • TSLA

Tesla is the world's most valuable car maker and a company focused on clean energy solutions

UPM-Kymmene • UPM

A Finnish forestry company employing approximately 17,000 people and operating manufacturing plants in 12 countries

Visa • V

Visa is one of the world's largest providers of financial services and card payments

Wise PLC (TransferWise) • WISE

Wise is a P2P money transfer service headquartered in London, but in addition, the company has eight more offices over the world, including New York, Sydney, Singapore and Tallinn.
Microinvestment with Growth Account
Microinvestment enables you to grow your investment portfolio without even noticing, investing up to 1 euro to your Growth Account with each debit card payment.
Did you know that microinvesting will help you to deposit approximately 1,1 euros to Growth Account on a daily basis, in a year it will grow up to 400 euros.


Microinvesting is targeted to customers who are ready to accept investment risk, value comfort and are determined to save money in the long-term. Microinvesting will help you to deposit approximately 1,1 euros to Growth Account on a daily basis, in a year it will grow up to 400 euros. If you invest this amount of money yearly throughout 25 years the value of your Growth Acccount will increase up to 40,000 euros provided the average annual growth rate is 10%.
This can be done by signing first the Investment Services Agreement, then setting up Growth Account Agreement via the internet bank. Finally, debit card has to used for payments in order to generate automatically microinvestments that are transferred to Growth Account.
Activate and configure
Activate microinvestment service at Growth Account's settings page located in the internet bank. If you wish, you can set an upper limit to the microinvestment sum for smaller payments.
Pay with debit card
Pay with LHV's debit card and invest with every payment. Microinvestment also works with a virtual debit card.
Please note! The microinvestment sum is not reserved automatically after each debit card payment. The card payments made during a 24-hour period are accumulated and on the next day the total sum will be calculated to be transferred to your Growth Account as a microinvestment.
If you do not have sufficient funds for the microinvestment at the time of the payment, then a) as much as possible will be taken from your account or b), if your account balance is zero, nothing is taken.
If you wish to stop making microinvestments, you can cancel the service in the internet bank.
Calculation of microinvestment
The sum of a debit card payment is rounded to the next integer.
Example. Your card payment is 2.1 euros. The next integer is 3 euros. The difference between the two numbers is 90 cents – that is the sum of the microinvestment.
Smaller payments
If you wish, you can set an upper limit to your microinvestments for smaller payments (up to 10 euros), which is 10% of the payment value.
Example. Your card payment is 2.1 euros. Usually your microinvestment sum would be 90 cents. By selecting 10% as the upper limit, the microinvestment sum is limited to 21 cents.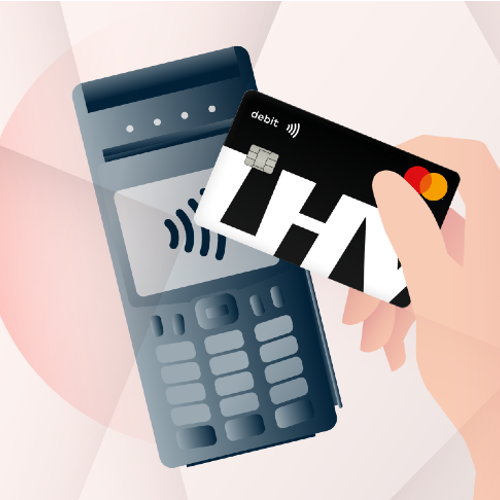 Open a Growth Account for your child
Log into the Internet Bank and choose the child's role. First, conclude an Investment Services Agreement and then a Growth Account Agreement ('Information and settings' → 'Agreements').

Choose suitable Growth Account securities. You can choose up to ten instruments.

Sign a standing order in your Internet Bank, as this way, every month a fixed sum will be received in your child's Growth Account.
Make your child a gift and open a Growth Account. If you want a certificate to hand over the gift, download the designed form and fill in the necessary fields.
Growth Account for home loan down payment
Use the calculator to see how long would it take you to achieve the necessary down payment via investing or simply via saving.
Investing via Growth Account may allow you to reach the necessary sum for the home loan down payment faster, as the money grows faster while investing it, versus saving it.
Sell your funds in the desired amount from your Growth Account within 2 weeks prior to the date of loan money being paid out. We will reimburse the fees associated to sales of the Growth Account funds within 2 weeks.
How long would it take to collect the down payment for the home loan via investing in comparison to saving?
Purchase price of the property
€
Monthly savings
€
Yearly yield
%
Conclusion of agreement

Free of charge

Fee for a purchase transaction

1%

Fee for a sales transaction

0.14% of trade value, min 9 €

LHV funds charge 1% fee, max 3 €

0 € is applied if the client sells Growth Account funds for home loan down payment before the loan money is paid out *

Management fee

0.02% per month (from 0,5 €; 0.01% on sums over 30,000 €), plus VAT; first year without management fee; management fee for persons under 26 years of age is 0 € **
* Sell your funds in the desired amount from your Growth Account within 2 weeks prior to the date of loan money being paid out. We will reimburse the fees associated to sales of the Growth Account funds within 2 weeks.
** Applies only for the first Growth Account.
View the terms and conditions, price list and risks of the Growth Account. Before making an investment decision, review the fund's prospectus and key investor information and risks involved in the investment. We advise you to get acquainted with the fund and the costs involved in the investment service with the help of the resources available on the website.