All of your investments are conveniently located in one place with your LHV securities account
Trade and hold Baltic shares without fees
LHV is the largest stockbroker on the Baltic markets
Access to the most commonly found securities on the Baltic, U.S., Nordic, European and Russian markets
We apply the lowest tax rate in Estonia on US dividends – 15% instead of the regular 30%
With an additional contract you can access options and margin loans
Get an overview of your alternative investments
LHV clients can add crowdfinancing and cryptocurrency accounts to LHV internet bank statement for an holistic overview of your financial assets from a single location.
You can see the investment cost and profit for your investments, as well as the available cash at the given platform in the alternative investments section of the internet bank.
You can add your Coinbase, Crowdestate, EstateGuru and Funderbeam accounts, with Bondora and others coming in the near future.
Read FAQ for more information.
Professional support is always available
Our experienced brokers will assist you in Estonian, English and Russian, on working days from 9-23. Contact us at maaklerid@lhv.ee or by telephoning 680-0420.
LHV organises regular investment seminars, which are open to all interested parties.
Access to investment funds
---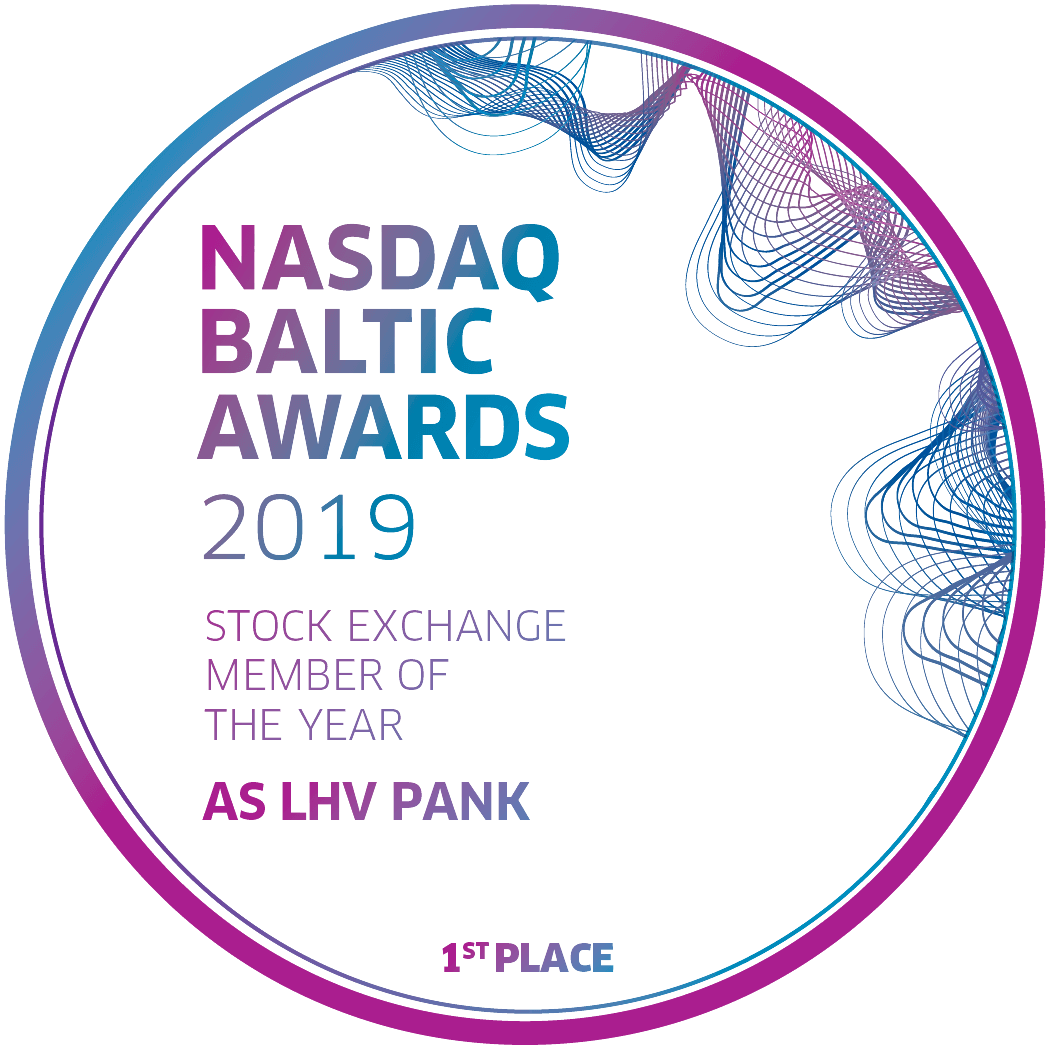 Nasdaq Baltic Awards 2019 Stock Exchange Member of the Year
LHV Pank was noted for it's increasing trading activity, steady commitment to serving, educating and inspiring the investor community, acting as a liquidity provider on the market, and contributing to the organization of IPOs and SPOs.
How to bring your securities to LHV?
Perform a free of payment securities transfer using the LHV internet bank.
Start the order in the internet bank. Enter the name of the security (or its ISIN code), the quantity and price at which you would like to transfer the securities. As the next step, enter the name of the counterparty, their securities account number and the account administrator. View the instructions.

Perform a free of payment securities transfer in your current bank.
To perform a free of payment securities transfer make sure that you also forward the transfer order to the counter-party's account administrator bank. The transaction order must be identical to the transaction of the counter-party.

Transfer your securities
Opening a securities account
Creating a securities account (including a Baltic securities account)

Free of charge

Administering of Baltic shares

Free of charge

Transaction fee for Baltic shares

Free of charge

Management fee for foreign securities

0.025% monthly, from 2 € (0.015% from the part exceeding 30,000 €)*

Free of charge up to 30,000 € for clients with at least 2 buy orders executed on foreign exchanges during the last 3 months

Service charge (including the ETF-s) for shares from the U.S., the Nordic countries, Russia, Canada, Germany, Italy, France and Spain

11 € + 0.3%

Service charge for bond transactions

6 € + 0,2%

Service charge for fund shares

Purchase transactions for LHV funds free of charge, sales transaction 1%; Other funds - purchase and sales transaction 1%

Service charge for options

6 € Contract

Baltic analyses

6 € per month

Margin loan

Loan interest for a margin loan starts from 7.5%. Many Baltic securities and most of the securities listed on the foreign stock exchange are suitable as collateral.