All of your investments are conveniently located in one place with your LHV securities account
Free account and depositing of Baltic securities
LHV is the largest stockbroker on the Baltic markets
Access to the most commonly found securities on the Baltic, U.S., Nordic, European and Russian markets
We apply the lowest tax rate in Estonia on US dividends – 15% instead of the regular 30%
With an additional contract you can access options and margin loans
We cover the transfer costs
Baltic securities can be transferred to LHV at any time, but until 31 May we will cover up to 100 € in transfer related costs of Baltic listed shares. To get compensation, send us your bank account statement of the transfer costs.
List of Baltic securities
How to bring your securities to LHV?
Perform a free securities transfer using the LHV Internet Bank.
Start the order in the Internet Bank. Enter the name of the security (or its ISIN code), the quantity and price at which you would like to transfer the securities. As the next step, enter the name of the counterparty, their securities account number and the account administrator. View the instructions.

Perform a free securities transfer in your current bank.
To perform a free securities transfer make sure that you also forward the transfer order to the counter-party's account administrator bank. The transaction order must be identical to the transaction of the counter-party.
Transfer your securities
Access to the world's largest financial markets
Buy shares, index funds and bonds from the world's largest stock exchanges in Estonia, Europe, the Americas and Russia. Review our list of offered instruments and stock exchanges. If you conclude an additional contract, you will be able to purchase options contracts and short sell U.S. shares.
Home of Baltic securities
As the largest securities broker on the Baltic Market, LHV offers the best conditions for investing in Baltic securities. LHV is the only one in Estonia to offer the free opening of a securities account and the holding of Baltic securities without an administrative fee.
In addition, you can order periodic overviews of publicly traded Baltic companies from LHV's analysts, which reveal the assessment of analysts towards the results and in which the fair value of the share is designated.
Convenient transactions
The Internet Bank can be used to perform transactions under "Investing" menu. As a client of LHV you can track the real-time market information of Baltic shares via the Powertrader application.
LHV's Mobile Bank can also be use to perform transactions with Baltic Shares.
The possibility to use margin loans to take positions
If you have concluded a margin loan agreement, we will allow you to take a loan against your portfolio of publicly traded securities in order to take new positions. A margin loan can also be used to perform transactions if sufficient funds are currently unavailable.
Professional support is always available
Our experienced brokers will assist you in Estonian, English and Russian, on working days from 9-23. Contact us at maaklerid@lhv.ee or by telephoning 680-0420. We also invite you to an investment consultation, where we will discuss investing and LHV services in greater detail.
LHV organises regular investment seminars, which are open to all interested parties.
Access to investment funds
Opening a securities account
| | |
| --- | --- |
| Creating a securities account (including a Baltic securities account) | Free of charge |
| Administering of Baltic shares | Free of charge |
| Management fee for foreign securities | 0.025% monthly, from €2 (0.015% from the part exceeding €30,000)* |
| Transaction fee for Baltic shares | 3 € + 0.2% |
| Service charge (including the ETF-s) for shares from the U.S., the Nordic countries, Russia, Canada, Germany, Italy, France and Spain | 11 € + 0.3% |
| Service charge for bond transactions | 6 € + 0,2% |
| Service charge for fund shares | Purchase transactions for LHV funds free of charge, sales transaction 1%; Other funds - purchase and sales transaction 1% |
| Service charge for options | 6 € Contract |
| Baltic analyses | 6 € per month |
| Margin loan | Loan interest for a margin loan starts from 7.5%. Many Baltic securities and most of the securities listed on the foreign stock exchange are suitable as collateral. |
---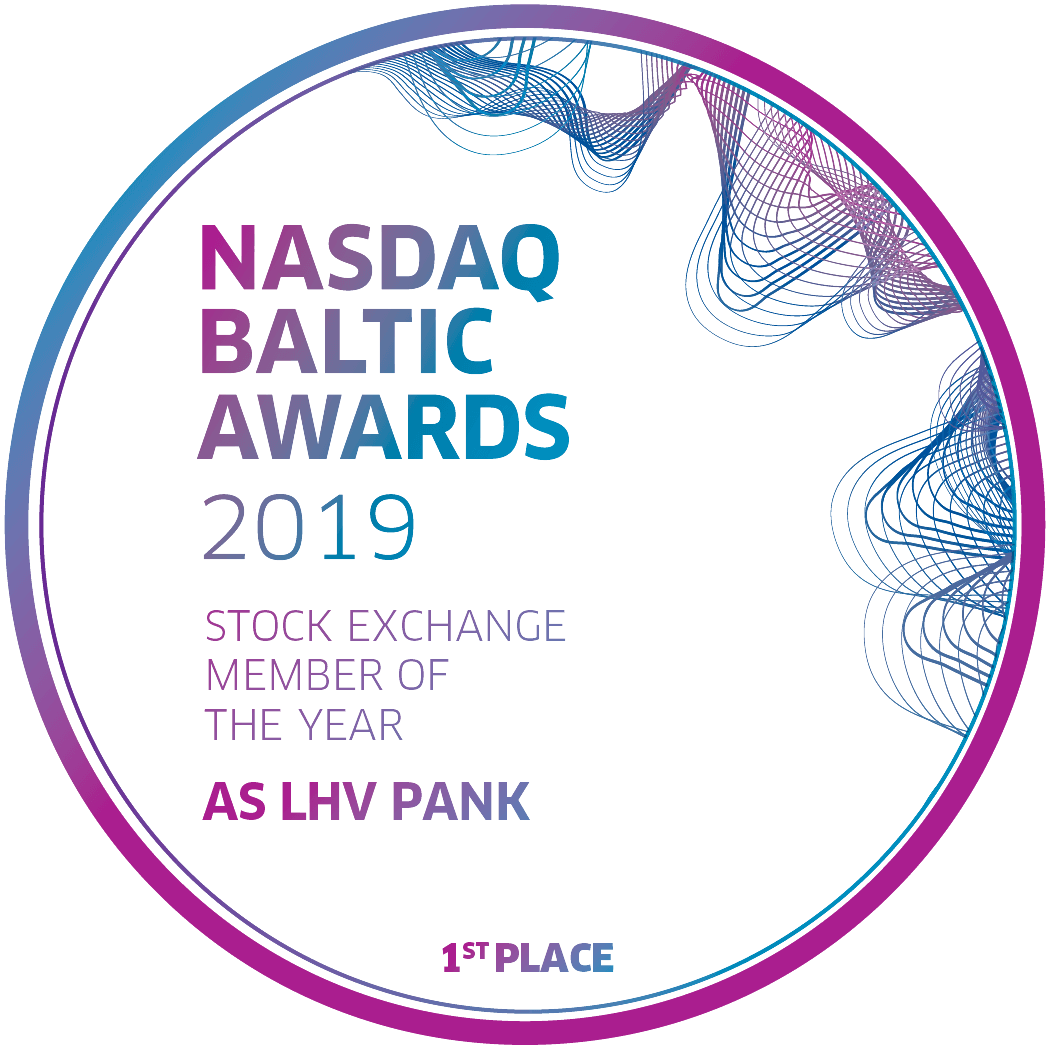 Nasdaq Baltic Awards 2019 Stock Exchange Member of the Year
LHV Pank was noted for it's increasing trading activity, steady commitment to serving, educating and inspiring the investor community, acting as a liquidity provider on the market, and contributing to the organization of IPOs and SPOs.