LHV Pensionifond S
Active Management • Balanced Strategy
0%
100%
Invests into Estonia
Suitable if
you have 2–5 years left until retirement age,
you have low risk tolerance,
your aim is the preservation and modest growth of your pension savings.
Strategy
The Fund's assets are mainly invested in bonds. The Fund's assets may be invested in sub-investment grade bonds. Up to 25% of the fund's assets may be invested in real estate, infrastructure, equity funds and convertible bonds. The Fund may also grant a loan. The long-term preferred asset class of the fund is listed debt instruments.
Performance
The Fund's return is expressed as the net yield after deduction of all fees.
Current asset allocation

Information about the fund

Expenses

Documents

Fund's fortunes

Market overview
Biggest investments
The data is presented as at 30.04.2020
| Biggest investments | |
| --- | --- |
| Temasek 0.5% 01/03/22 | 4.86% |
| Latvenergo 1.9% 10/06/22 | 4.79% |
| Luminor 1.5% 18/10/21 | 4.58% |
| Riigi Kinnisvara 1.61% 09/06/27 | 4.42% |
| German Government 3.25% 04/07/21 | 3.93% |
| German Government 2.25% 04/09/21 | 3.86% |
| Transpordi Varahaldus 2.85% 18/04/25 | 3.77% |
| Investor 4.5% 12/05/23 | 3.17% |
| Romania 2.875% 28/10/24 | 2.83% |
| SANOFI 1.875% 04/09/20 | 2.79% |
Biggest investments in Estonia
| Biggest investments in Estonia | |
| --- | --- |
| Luminor 1.5% 18/10/21 | 4.58% |
| Riigi Kinnisvara 1.61% 09/06/27 | 4.42% |
| Transpordi Varahaldus 2.85% 18/04/25 | 3.77% |
The data is presented as at 30.04.2020.
Information about the fund
| Information about the fund | |
| --- | --- |
| Volume of the fund (as of 30.04.2020) | 54,542,573.17 € |
| Management company | AS LHV Varahaldus |
| Equity in the fund | 270 000 units |
| Rate of the depository's charge | 0,0564% (paid by LHV) |
| Depository | AS SEB Pank |
Entry fee: 0%
Exit fee: 0%
Management fee: 0.60%
Success fee: no commission
Ongoing charges (inc management fee): 0.69%
Ongoing charges are based on expenses for the last calendar year, ie 2019. Ongoing charges may vary from year to year.
April 2020 – Central banks extended their supporting hand to the markets
Kristo Oidermaa and Romet Enok, Fund Managers
Bond markets have recovered to varying degrees from their sharp decline in March. While in the United States, the bond prices of companies with stronger as well as weaker solvency have increased sharply as a result of the extremely aggressive measures taken by the Federal Reserve, in Europe price movements have been considerably more modest.
A possibility to raise funds is opening up again for enterprises. The situation facing companies affected most by the crisis, is characterised by Boeing, who had to offer investors an interest rate of 4.5–6% (depending on the maturity) in order to get a loan.
As unemployment is increasing in many parts of the world, and the credit quality of enterprises is deteriorating, we will continue to keep the assets of fund S primarily in short-term bonds with sound solvency in the future.
March 2020 – High-rated bonds protected the fund from an even greater decline
Kristo Oidermaa and Romet Enok, Fund Managers
More things have happened in large bond markets in March than sometimes do over a period of five years. The spreading virus caused bond prices to drop and, what's more important, even the world's largest enterprises almost completely lost the opportunity to borrow any money.
Central banks intervened with measures that were essentially the same as those used during the crisis ten years ago, although they did so more vigorously and quickly this time: banks were offered support and, for the first time, loans were issued directly to enterprises. Nevertheless, at the end of the month the losses on the European and US corporate bond markets were still between 6% and 15%. On some markets, the rise of the last three years was wiped out all at once.
Although the measures employed by central banks helped to stop the price drop, the problem remains. The extremely low interest rates of the last decade have allowed many lower rated enterprises to become so indebted that, according to the latest assessment of the International Monetary Fund, around 40% of all enterprises may find themselves in default during the next crisis. This crisis has arrived.
As our monthly overviews have emphasised in recent years, we are mainly investing in high-rated and short-term bonds. Doing so has allowed us to avoid enterprises that have borrowed substantial sums of money as well as long-term bonds, which were hit in March. For the fund, however, this did mean a loss of slightly more than 1% for the month.
As at the end of March, nearly 60% of the fund's assets were comprised of deposits, European Union governments and state-owned enterprises, and other public sector enterprises with a very high rating. Bond markets are facing a tough time and we are ready to take and advantage of the emerging opportunities.
February 2020 – Investors sought protection against the virus from government bonds
Romet Enok, Fund Manager
Fear concerning the impact of coronavirus on the global economy led to movements last month, which were quite foreseeable given the situation: the prices of government bonds rose, while weaker corporate bonds in particular posted significant losses. In Europe, this movement ranged from +0.5% in the government bond market to −2% for companies with a lower rating.
After the rise in prices we once again sold bonds. The investment in French government bonds with a maturity date in autumn 2022 had been sizeable for the fund, and was now sold at a price, the future annual rate of return on which would have been −0.65%.
A considerable portion of the total assets of the fund have been placed in highly-rated short-term liquid bonds. Firstly, it protects against the current situation and secondly, it enables new investments to be made as soon as attractive possibilities occur.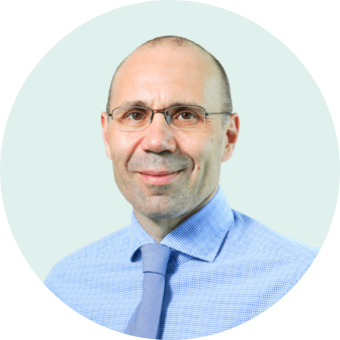 The importance of saving becomes apparent in times of crisis
Andres Viisemann, Head of LHV Pension Funds
Even though real life and the real economy were in standby mode virtually everywhere in the world in April, stock markets demonstrated impressive growth after the sudden declines of February and March. The MSCI Index, the world's largest measurer of the value of companies, rose by 11.1%.
Stock exchanges in the Baltic Republics also experienced similar growth. While these exchanges have reacted with somewhat of a delay in previous market cycles to the changes in mood of international markets in the downturn and above all upturn phases, this time the local securities market has been almost in complete sync with the larger markets.
This characterises the global nature of the present crisis: the virus quickly crossed national borders. Also, almost all markets and asset classes were priced against expectations of a perfect future before the crisis, but this was largely a consequence of monetary policy, which inflated asset prices.
No one can yet predict exactly how and when the economy will recover. Some regions and economic sectors are recovering faster than others, but it is already clear that those (countries, businesses and families) who had accumulated reserves will find it easier to survive the crisis.
By the end of April, the securities markets had recouped a large part of their losses. Even so, it rather reflected expectations for the short-term effects of the monetary and fiscal policies of the world's major powers rather than the long-term outlook for the global economy.
The modern economy and society as a whole have been focused on the pursuit of efficiency. Efficiency was sought everywhere; for example, companies minimised inventories and national healthcare systems minimised the number of beds. In the financial world this also meant that companies reduced 'expensive' equity through share repurchase programmes and used as much 'cheap' loan money as possible.
While central banks and governments smoothed out every small setback, only the 'fools' worried about the actual realisation of a worse-than-average scenario. However, the shock that impacted our everyday lives has shown us that efficiency may sometimes be dangerous, perhaps even fatal.
Of course, nature does not chase efficiency. Evolution has proven the need to stockpile assets: only those species that have survived exceptionally difficult times have endured. Unfortunately, the current organisation of society has set the goal of reducing personal responsibility. I am not opposed to collective action and coordination, but it should not diminish each person's own responsibility.
Adapting to changed circumstances
According to the Estonian Central Bank, households in Estonia have deposits worth approximately EUR 8 billion, although they are very unevenly distributed: 40% of families have savings of less than EUR 1000. This can make it difficult for many people to cover their daily expenses fairly quickly if they lose their job.
I suspect that small savings are not so much due to low incomes, but are a question of choices and responsibility. In a similar survey conducted last spring by the US Federal Reserve, it was revealed that about 40% of Americans lack sufficient reserves to cope with an extraordinary expenditure of USD 400. At the same time, the US gross domestic product per capita is EUR 58,000, while in Estonia the same figure is EUR 21,000.
I do not believe that the economy and other aspects of life will quickly return to their former rhythm and volume once the state of emergency ends. Perhaps the lifting of restrictions will initially be celebrated, and some emotional purchases will be made. However, it is likely that many people will realise that their savings, which have most likely been used up by this point, were insufficient even before the crisis occurred, and they do not want to find themselves in the same position in the future.
I believe that the first thing we will see is a change in the behaviour of people (consumers) – it will take longer for companies to adjust. Many companies will be unable to adapt and will be replaced by new ones. Another big question mark is how the public sector will react, which will end up having a significant impact on the private sector. I suspect that many countries have already chosen a course in monetary and fiscal policy that will be difficult to reverse from, even if they really wanted to.
Even though a significant proportion of investors are worried about the future prospects of the euro zone, I consider myself to be more of a euro-optimist. I believe that the strong side of the euro zone is the so-called weakness of the centre and the lack of a strong-handed leader. No one can push through total stupidity, and Member States must look for compromises that are not the best, but also not the worst.
There are no simple answers to complicated questions. These are currently being sought by those people who have lost their jobs, by those companies whose products and services are being consumed less, and by governments and central banks needing to reduce the risks to public health and the economy. It is often the situations that pose great challenges that force people to make an effort and develop, and get countries, companies and individuals to think more about their personal responsibilities.
Even though real life and the real economy were in standby mode virtually everywhere in the world in April, stock markets demonstrated impressive growth after the sudden declines of February and March. The MSCI Index, the world's largest measurer of the value of companies, rose by 11.1%.