LHV Pensionifond S
Active Management
0%
100%
Invests into Estonia
Suitable if
you have 2–5 years left until retirement age,
you have low risk tolerance,
your aim is the preservation and modest growth of your pension savings.
Strategy
The Fund's assets are mainly invested in bonds. The Fund's assets may be invested in sub-investment grade bonds. Up to 25% of the fund's assets may be invested in real estate, infrastructure, equity funds and convertible bonds. The Fund may also grant a loan. The long-term preferred asset class of the fund is listed debt instruments.
Performance
The Fund's return is expressed as the net yield after deduction of all fees.
Biggest investments
The data is presented as at 31.08.2022
| Biggest investments | |
| --- | --- |
| German Treasury Bill 14/12/2022 | 9.80% |
| German Treasury Bill 21/09/2022 | 8.79% |
| Riigi Kinnisvara 1.61% 09/06/27 | 8.14% |
| Luminor 0.792% 03/12/24 | 7.24% |
| Romania 2.875% 28/10/24 | 5.13% |
| ZKB Gold ETF | 4.54% |
| German Government 1.5% 04/09/22 | 4.49% |
| ALTUMG 1.3% 07/03/25 | 4.44% |
| France Government 2.25% 25/10/22 | 3.75% |
| KBC Group NV 0.625% 07/12/2031 | 3.13% |
Biggest investments in Estonia
| Biggest investments in Estonia | |
| --- | --- |
| Riigi Kinnisvara 1.61% 09/06/27 | 8.14% |
| Luminor 0.792% 03/12/24 | 7.24% |
| Coop Pank 5.0% 10/03/2032 | 3.09% |
The data is presented as at 31.08.2022.
Information about the fund
| Information about the fund | |
| --- | --- |
| Volume of the fund (as of 31.08.2022) | 29,574,880.30 € |
| Management company | LHV Varahaldus |
| Equity in the fund | 120 000 units |
| Rate of the depository's charge | 0,0576% (paid by LHV) |
| Depository | AS SEB Pank |
Entry fee: 0%
Exit fee: 0%
Management fee: 0,6240%
Success fee: no commission
Ongoing charges (inc management fee): 0,64%
Ongoing charges are based on expenses for the last calendar year, ie 2021. Ongoing charges may vary from year to year.
August 2022: We brought Latvenergo's depreciated bond back into to the fund
Kristo Oidermaa and Romet Enok, Fund Manager
We acquired bonds from the Latvian state energy company Latvenergo to reintroduce to the fund. For many years the company had been one of the biggest investments in our portfolio (until we repaid the bond at the beginning of June). Since the price of the company's other publicly traded bond had been falling significantly, we used the money from the repayment to bring Latvenergo back into our portfolio. With continued uncertainty in the financial markets, there is great value in being able to take advantage of opportunities as they present themselves.
July 2022: Two new bond investments
Kristo Oidermaa and Romet Enok, Fund Manager
In July, we made a new investment in a local company and one in international markets.
As regards financing the projects of Estonian companies, we finalised a deal with Perton Ehitus to finance a development project of apartment buildings. Perton Ehitus sold bonds to LHV pension funds for the development of Kotzebue Park in the Kalamaja district in Tallinn for three years. The interest rate is 8.5% per annum and the bond is secured by a mortgage.
We acquired and added bonds from the large Finnish real estate company, Kojamo, to the fund's portfolio from the international stock market. Kojamo has a long standing history in the Finnish housing market, and develops and owns apartments in Helsinki and elsewhere in the country. Kojamo's largest shareholders are Finnish pension funds and trade unions, Kojamo shares are traded on the Helsinki stock exchange.
We work actively to analyse local projects and find opportunities in international bond markets. Focusing on both the local and international markets and comparing them, gives us an advantage over those who only engage in one of the two.
June 2022: We subscribed to Coop Pank bonds
Kristo Oidermaa and Romet Enok, Fund Managers
In June, one of the fund's largest investments reached maturity when the Latvian state energy company Latvenergo redeemed its bonds.
We are focused on shorter-term bonds. First, these have protected the fund's long-term bonds from the recent price drop, and second, this strategy now allows the money to be invested in new projects at a higher interest rate.
We therefore subscribed to the subordinated bonds of Coop Pank last month. The interest on the instruments is 10% per annum and the bank will have the first redemption right after five years. These are securities that in terms of complexity are closer to bank equity than deposits. LHV pension funds were the largest investor in the private placement.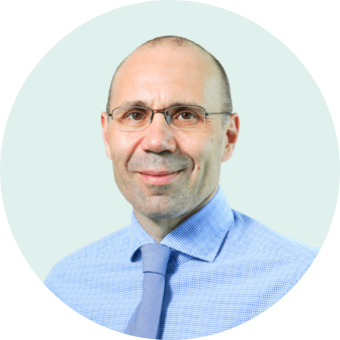 Investing in an inflationary environment
Andres Viisemann, Head of LHV Pension Funds
After a surprisingly substantial rise in July, the world's largest stock markets were in decline again in August. The S&P 500 index, which tracks the value of the largest US companies, lost 2.9% of its value measured in euros last month, while the Japanese Nikkei index fell by 1.5%.
After rising 7.4% in July, the Stoxx 50 index, which represents some of the largest companies in Europe, lost 5.1% of its value in August. The performance of Baltic stock exchanges was mixed: while the Tallinn and Vilnius stock markets grew by 2.4% and 1.9%, respectively, the Riga stock market declined by 4.5%.
The European economy is in an extremely challenging situation, with the war in Ukraine contributing to extensive increases in energy expenditure. This is a huge blow, as Europe can only cover just over 40% of the energy it consumes, while the rest has to be imported.
Chart: Total energy imports and oil price in the Eurozone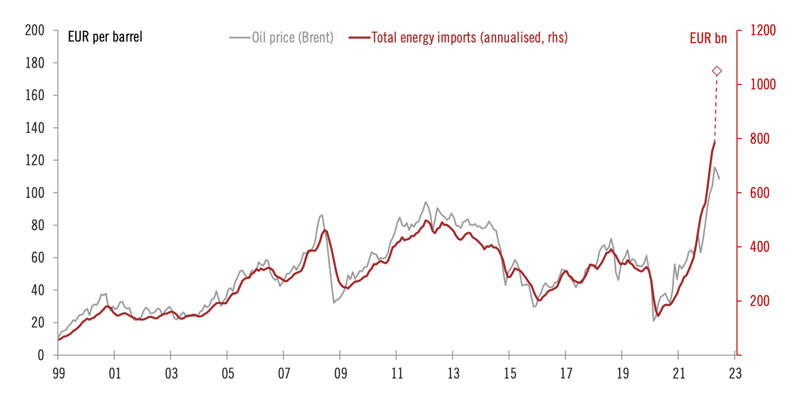 In the past, the majority of the energy imports to Europe came from Russia, but after Russia began to wage war in Ukraine, Europe must look for alternatives to the energy bought from the aggressor state. Rising energy costs directly impact the prices of all goods and services that are produced using this energy. The rule of thumb is that if the price of natural gas rises by 100 euros per MWh, the rate of inflation will accelerate by 2%.
However, rising inflation cannot be attributed solely to the increase in energy prices. For too long, monetary policies throughout the developed world were extremely loose, with central banks keeping interest rates too low and pumping out more and more liquidity. The deposit interest rate of the European Central Bank has been 0% since 2012 and has even turned negative in recent years.
When the signs of inflation first emerged in spring 2021, central bank models predicted this would be temporary. After delaying for too long, they only responded to the inflation this spring. The European Central Bank continued to buy up bonds and pump money into the system, even until as late as the end of June 2022. Only when inflation in the Eurozone accelerated to 8.6% in July did the European Central Bank finally discard the policy of negative interest rates.
Aid packages introduced by governments during the COVID crisis were another factor contributing to the rapid growth of inflation. Although these kept the economy more or less going during difficult times, they were simply too universal in hindsight. Everyone was offered support, regardless of whether they actually needed it. When COVID restrictions were slowly lifted in the second half of 2021, the economies of developed countries began to overheat.
Seizing good opportunities
A high rate of inflation complicates the process of making investment decisions for companies, as it becomes difficult to estimate the behaviour of input prices, i.e. the price of labour and raw materials. In addition, a higher inflation rate also means rising interest rates and a higher cost of capital. With the future uncertain, companies are cautious in launching new projects and hiring employees.
In an inflationary environment, investors use higher risk premiums when evaluating companies, and they discount cash flows from future periods to their present value at higher interest rates. Rapid price growth may bring better turnover and profits for the company in the future, but if the present value of these cash flows is determined at a higher discount rate, the company's value may still drop. The same logic applies to salaries: even if salaries increase by 10%, with 20% inflation, real salaries actually fall by 10%.
Because the real economy is harmed, few assets can hold real value during high inflation. Asset prices may rise in nominal terms, but adjusting these to the high inflation rate may still reveal that the real value of the assets has dropped. The companies that succeed in an inflationary environment are those with a unique, strong market position and the ability to price their products and services as the environment changes.
Inflation feeds risk into the investment environment, which is reflected in a greater fluctuation in securities prices. However, the biggest risk is that people give up on investing in the future. Both as businesses and as individuals. Keeping money in a bank account is not the wisest choice in an inflationary environment, where rising prices diminish the purchasing power of money with each passing day. The only thing worse than that, and a sure way of having empty pockets, is to spend money mindlessly.
I believe that, in the longer term, Estonia's nominal economic growth will be around 5 or 6%. Projects with moderate risk that offer a higher return than this would therefore make a worthwhile investment today. Of course, higher-risk projects should include an additional risk premium, because not every investment may go as expected.
In the management of pension funds, we at LHV have always made our first goal to protect clients' assets, even in difficult circumstances, then to overcome the rate of inflation in the long term, and finally, to offer a better return than our competitors.
After a surprisingly substantial rise in July, the world's largest stock markets were in decline again in August. The S&P 500 index, which tracks the value of the largest US companies, lost 2.9% of its value measured in euros last month, while the Japanese Nikkei index fell by 1.5%.