LHV Pensionifond S
Active Management • Balanced Strategy
0%
100%
Invests into Estonia
Suitable if
you have 2–5 years left until retirement age,
you have low risk tolerance,
your aim is the preservation and modest growth of your pension savings.
Strategy
The Fund's assets are mainly invested in bonds. The Fund's assets may be invested in sub-investment grade bonds. Up to 25% of the fund's assets may be invested in real estate, infrastructure, equity funds and convertible bonds. The Fund may also grant a loan. The long-term preferred asset class of the fund is listed debt instruments.
Current asset allocation

Information about the fund

Expenses

Documents

Fund's fortunes

Market overview
Biggest investments
The data is presented as at 30.09.2019
| Biggest investments | |
| --- | --- |
| Temasek 0.5% 01/03/22 | 4.83% |
| Latvenergo 1.9% 10/06/22 | 4.71% |
| Luminor 1.5% 18/10/21 | 4.60% |
| Riigi Kinnisvara 1.61% 09/06/27 | 4.33% |
| Transpordi Varahaldus 2.85% 18/04/25 | 4.27% |
| TOTAL 03/19/20 | 3.24% |
| Investor 4.5% 12/05/23 | 3.17% |
| Romania 2.875% 28/10/24 | 3.08% |
| SANOFI 1.875% 04/09/20 | 2.73% |
| Allianz 07/12/20 | 2.71% |
Biggest investments in Estonia
| Biggest investments in Estonia | |
| --- | --- |
| Luminor 1.5% 18/10/21 | 4.60% |
| Riigi Kinnisvara 1.61% 09/06/27 | 4.33% |
| Transpordi Varahaldus 2.85% 18/04/25 | 4.27% |
The data is presented as at 30.09.2019.
Information about the fund
| Information about the fund | |
| --- | --- |
| Volume of the fund (as of 30.09.2019) | 55,642,227.76 € |
| Management company | AS LHV Varahaldus |
| Equity in the fund | 270 000 units |
| Rate of the depository's charge | 0,0576% (paid by LHV) |
| Depository | AS SEB Pank |
Entry fee: 0%
Exit fee: 0%
Management fee: 0.672%
Ongoing charges (inc management fee): 0.7%
Ongoing charges are based on expenses for the last calendar year, ie 2018. Ongoing charges may vary from year to year.
October 2019 – Common sense must be maintained on the bond market
Romet Enok, Fund Manager
The United States Federal Reserve again lowered the interest rate at the end of the month, designating 1.5–1.75% as the new range. Any further steps are hard to decipher both on this and the other side of the Atlantic, since a new President of the European Central Bank took office in November. The prices of German long-term bonds have already been continuously falling since the end of the summer, raising the expected rate of return on the 10-year bond, for example, from –0.7% to –0.25%.
However, bonds are still expensive, and opinions that the whole negative interest policy will one day be declared an unsuccessful experiment, are increasingly being heard. Even if this will not be the case, and the economy should recover, a decrease in price would still lie ahead for bonds, which means that it is not rational to buy them in larger quantities right now. We currently only invest money from repaid bonds into shorter-term bonds with high credit quality.
September 2019 – Investment options require quick actions
Romet Enok, Fund Manager
The main bond markets of Europe were in decline in September. The main factor that the markets focus on is the oncoming departure of the United Kingdom from the European Union while global economic cooling also gets some attention. Nevertheless, the bond markets are exceptionally strong, allowing large international enterprises to keep borrowing money, if they wish, in very large amounts and with almost non-existent interest.
In such a situation, we shall avoid investing money for a long term on at unattractive terms, as seen from the investor's point of view. In spring, we purchased a significant amount of bonds of the Finnish insurance company Sampo when the company was raising money from the market after a long time. In September, the company did it once again but the interest level was much lower. The Sampo bonds that were purchased for the pension fund S in spring have by now had a rate of return of 15%, while the bonds offered in September pay less than 2% interest annually. Attractive opportunities are rare on such a market which means that quick actions are required.
August 2019 – Investors are willing to lose money in the international bond market
Romet Enok, Fund Manager
The European bond market is looking forward to the meeting of the central bank taking place in the middle of September. Due to the economic slowdown, the investors wish to once again see purchases in the bond market supported by the central bank. In the light of this, interest rates have become so low that banks with a very high rating are able to borrow money for ten years with negative interest. Government bonds reached this point earlier.
In this situation, we once again sold long-term bonds of the Lithuania, Slovakia and Swedish investment company Investor AB. The latter two had also reached such a high price level that the purchaser would suffer a certain loss when holding until maturity. Out of the fund's existing investments, Sampo's success continues. The bond has, after its purchase at the beginning of May, brought about a 15% rate of return. We are working with multiple local companies and are clearly hoping for investments with a better rate of return from this direction soon.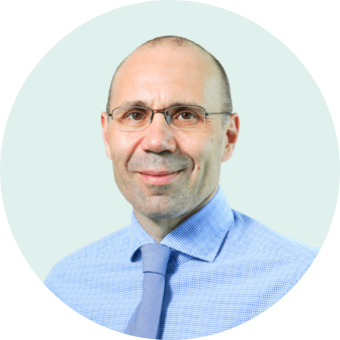 The euro of today must also serve the needs of tomorrow
Andres Viisemann, Head of LHV Pension Funds
All of the world's largest stock markets remained slightly on the plus side in September. Measured in euros the S&P500 Index, which includes the largest US enterprises, rose by 2.5% last month, and the value of the Stoxx 600 Index, which reflects the well-being of Europe's largest enterprises, rose by 3.6%.
Both the US Federal Reserve and the European Central Bank have done an about-face in terms of their monetary policy this year and lowered interest rates. However, all medicines lose their effectiveness if taken for too long, and unwanted side effects also begin to materialise.
Corporate indebtedness has grown, although enterprises have not spent all of their borrowed money on investments. A large portion has been used to repurchase shares and pay dividends. Government debt burdens have also grown, regardless of the fact that there is no longer a need to pay interest and they are even being paid for taking a loan.
In its analysis, Deutsche Bank has shown that the average debt of the world's largest countries already exceeds 70% of GDP. It is the highest level in the last 150 years, if you leave out the rapid growth in public debt during World War II.
Living at the expense of the future
Recently, it has become more prevalent in Estonia to support the standpoint that if money can be borrowed in such a way that you are being paid to do so, this opportunity should be taken. However, I believe that more important than the loan interest rate is how the borrowed money is used.
If a loan with an interest rate of 0% is invested into a project, the rate of return of which is greater than 0%, it is justified. However, if the loan is used in such a way that it creates nothing, the borrowers are digging a hole, from which it is not easy to climb out of because the debt is owned by a stranger (even with an interest rate of 0%). In the end, we shall be poorer by the amount of the borrowed money, not richer. It does not matter whether the loan has a 0% or 10% interest rate, it is vital that we would earn a higher rate of return than the interest rate of the loan we have taken.
In particular, I have heard politicians say that because of the lower interest rates it is not reasonable to invest right now – it would be better to spend. Justifying spending and encouraging consumption has for years (but not always) been the world-view of Isamaa politicians (although they still consider themselves to be right-wing and conservative).
Two previous Ministers of Finance, who both came from the Isamaa Party, spent the reserves of both the Estonian Health Insurance Fund and the Estonian Unemployment Insurance Fund. The last Minister of Finance appointed from among the ranks of the Isamaa Party described it as the efficient use of money, and also included permission to spend the reserves of the Estonian Health Insurance Fund and the Estonian Unemployment Insurance Fund, in order to cover running costs, in legislation. The Estonian Health Insurance Fund and the Estonian Unemployment Insurance Fund have reserves only on paper – actual money does not exist, one of the current ministers admitted. Maybe this is why the Great Peters of Isamaa have targeted people's savings in the pension funds.
"Expert opinion"
When it comes to Isamaa's economic ideology on the scale of left and right (or rather not having a world-view), it is best characterised by their choice of spokesman. Several politicians from Isamaa have highlighted Indrek Neivelt as someone whose competence should not be doubted.
I do not know whether the politicians of "right-wing" Isamaa realise that "left-wing" Indrek Neivelt has never represented their right-wing politics. Hereby, I am not stating which world-view is correct but rather admitting that Isamaa does not understand the scale of left and right, at least not in terms of the economy.
Moreover, I do not understand why Neivelt is considered an expert, whose competence should not be doubted. What has Indrek Neivelt done after leaving Hansapank that would give anyone the reason to consider him an expert in a field? When Rain Lõhmus left Hansapank, a team of top specialists followed him. Possibly, Indrek Neivelt also hoped that a team would leave with him from Hansapank, which was acquired by the Swedes, so they could start something new together. No one followed Indrek!
His record sized ego on the Estonian scale has yet to overcome this disappointment. Indrek's post-Hansapank experiments, both as an entrepreneur and an investor, do not demonstrate his competence. His huge ego continues to need society's attention and Facebook likes. For Neivelt, being popular is more important than facts and intellectual honesty. Everyone could see that in the 4 September "Esimene Stuudio" show, on ETV, where he engaged in a debate with Ardo Hansson over the topic of pension reform.
Neivelt's criticism about how money is added to pension funds for decades, before more starts coming, out has raised some eyebrows. If you save money for a trip happening in a year, you put money aside for 12 months, so you could eventually withdraw it and go on the holiday. It is the same with saving for your pension. If you start saving for your pension in your twenties and your pension arrives in about 45 years, it does mean that you save and grow your pension assets for about half a century and start using it when you are 65 years old. If you withdraw the money before retiring and spend it, then you would have nothing in your bank account when you are 65.
The same logic applies to the pension system as a whole. It takes about 40-50 years from creating the system until the point in time when payouts start exceeding deposits. Which is why the II pillar is called the funded pension. In the last 17 years, the rate of return of pension funds has exceeded the increase in the cost of living, so the funds saved for pension have not gone up in smoke nor has the purchasing power of pension assets decreased. Neivelt's statement, as if the Swedes are receiving a pension three times bigger than their deposits, is not a fact but a hyperbole constructed to draw attention, presuming a lot of unrealistic prerequisites.
Neivelt likes exaggerations in the style "Estonian people failed to earn EUR 1 billion. A billion euros!". However, he is not ashamed to add an accusation to the article, published in Postimees, in April, directed at the pension reform critics of Isamaa, whom he maligns with his delusions: "However, lies and half-truths are spewed to the media, with those people who want to change something being accused." Neivelt should look in the mirror to see who is the one spewing the lies and half-truths.
Isamaa, Parvel Pruunsild, and Indrek Neivelt began their attack with a cold-blooded lie that the money in the pension funds is going up in smoke. I hope that both Neivelt and Seeder have the honesty and courage to admit their mistake and have, by now, managed to acquaint themselves with the reality that the purchasing power of the pension funds has increased, not decreased.
Discipline helps to bring success
There is no doubt that the pension reform of Isamaa and the current government coalition means smaller pensions in the future, even in the case where the beginning of retirement is being postponed further and further.
In comparison with their salaries, the pensions of Estonian citizens are the lowest in Europe, and life after retiring is shorter than in other European countries. Thereby, Isamaa wants to force a pension reform that would make Estonia's pension system even more minimal. To retain the current replacement rate (pension compared with the last net salary) of Europe's lowest pension, which in Estonia is about 40%, it is proposed to postpone the retirement age.
Essentially, it means that a large group of people shall pay 20% of their salary as pension instalments to the state budget for 40 years but will not receive anything in return if they leave this world before reaching their retirement. Basically, for many people, postponing retirement means eliminating the I pillar in the same way that Isamaa is trying to remove the II pillar by making the funded pension voluntary.
Wealth and assets accumulate only when less is spent than earned. For me, freedom is linked to coping on my own and this presumes a certain amount of wealth. Wealth and thus also freedom presume at least some discipline in financial issues and in a broader sense as well. You shall never become rich and free while spending.
All of the world's largest stock markets remained slightly on the plus side in September. Measured in euros the S&P500 Index, which includes the largest US enterprises, rose by 2.5% last month, and the value of the Stoxx 600 Index, which reflects the well-being of Europe's largest enterprises, rose by 3.6%.