LHV Pensionifond L
Active Management
0%
100%
Invests into Estonia
Suitable if
you have more than 10 years left until retirement,
you have average risk tolerance,
your aim is the long-term growth of your pension savings.
Strategy
The assets of the Fund are invested in various asset classes in both local and foreign markets. The Fund's assets may be invested extensively in unquoted instruments, which are primarily used for investing in securities issued by companies domiciled in the home market. The long-term preferred asset class of the fund is private equity investments.
Performance
The Fund's return is expressed as the net yield after deduction of all fees.
Current asset allocation

Information about the fund

Expenses

Documents

Fund's fortunes

Market overview
Biggest investments
The data is presented as at 30.04.2021
| Biggest investments | |
| --- | --- |
| German Government 2.25% 04/09/21 | 4.97% |
| France Government 3.25% 25/10/21 | 4.48% |
| German Government 3.25% 04/07/21 | 4.09% |
| France Treasury Bill 25/08/2021 | 3.83% |
| EfTEN Kinnisvarafond | 3.75% |
| German Treasury Bill 25/08/2021 | 3.09% |
| iShares Gold Producers UCITS ETF | 3.05% |
| Riigi Kinnisvara 1.61% 09/06/27 | 3.01% |
| France Government 2.25% 25/10/22 | 2.84% |
| ZKB Gold ETF | 2.73% |
Biggest investments in Estonia
| Biggest investments in Estonia | |
| --- | --- |
| EfTEN Kinnisvarafond | 3.75% |
| Riigi Kinnisvara 1.61% 09/06/27 | 3.01% |
| East Capital Baltic Property Fund III | 1.68% |
The data is presented as at 30.04.2021.
Information about the fund
| Information about the fund | |
| --- | --- |
| Volume of the fund (as of 30.04.2021) | 1,038,335,414.55 € |
| Management company | AS LHV Varahaldus |
| Equity in the fund | 2 000 000 units |
| Rate of the depository's charge | 0,054% (paid by LHV) |
| Depository | AS SEB Pank |
Entry fee: 0%
Exit fee: 0%
Management fee: 0,576%
Success fee: 20% per annum on any increase in the fund's rate of return over the annual increase of Estonian social security pension contribution since the end date of previous calendar year.
Ongoing charges (inc management fee): 1.14%
The ongoing charges figure is an estimate based on the current management fee and the 2020 level of all other recognized costs. Ongoing charges may vary from year to year.
May 2021: Inflation expectations raised the price of gold
Kristo Oidermaa and Romet Enok, Fund Managers
In May, world stock markets moved at a modest pace. The MSCI World index, measured in euros, remained almost at April's level, falling by 0.1%. The S&P 500 index, which reflects the US stock market, fell 0.9% in euros during the month, the Japanese Nikkei index fell 1.6%, and the MSCI Emerging Markets index rose 0.4%.
The Euro Stoxx 50 performed somewhat better and rose 2.3% in May. The Austrian, Italian and Spanish stock markets stood out in particular, growing by 6.3%, 4.3% and 3.8%, respectively. On the other hand, the Baltic stock markets showed quite mixed results: while the Tallinn stock market index was almost the same as in April, the Vilnius and Riga stock markets grew by 6.2% and 2.7%, respectively, during the month.
In an environment of faster inflation, the gold mining companies in the portfolio of Pension Fund L gained considerable value in May. While intensifying global inflationary pressures raised the price of gold by 7.7% in one month, the share prices of gold mining companies rose even more: Agnico Eagle Mines rose 14.2%, AngloGold Ashanti 14.4%, Barrick Gold 13% and Newmont Mining 16.6%.
Concerning our bond portfolio, we sold the bonds in the Lithuanian state energy company Ignitis in May. The company raised funds through the bond issue in May last year, and since then, the price of the bonds had risen by a little more than 10%. In addition, the bonds have an annual interest rate of 2%.
As regards new investments, we moved on with Sunly bonds at the end of the month. The development of the company's solar parks has reached a stage where the fund subscribed for the next tranche of Sunly bonds. If all the assumptions are met, the bond will become one of the fund's largest investments in the next stages of development. The bond has an interest rate of 8% per annum, and the maturity term is 2025.
April 2021: The fund's performance was supported by several Baltic listed companies
Kristo Oidermaa and Romet Enok, Fund Managers
In April, world stock markets continued to rise, but at a slightly slower pace than in February and March. The MSCI World index rose by 2.2% during the month measured in euros, and the Euro Stoxx 50 index also rose by 1.8%. Among European countries, Finland was a powerful performer with its market index rising by 4.2% in April. The Japanese Nikkei index, on the other hand, fell 1.3% in local currency and 2.4% in euros.
The global emerging market index rose 2.4% in local currency, but due to the strengthening of the euro, remained at 0% in euros. The Baltic stock markets were very strong in April. The Tallinn stock market index rose the most, 7.7%, while the Vilnius and Riga markets rose by 4% and 3.2%, respectively.
The best performer among Baltic shares in the Pension Fund L portfolio was the tour operator Novaturas, whose shares rose by 26.8% during the month. Interest in travel is growing again and the company announced good first quarter sales and profit figures.
Investments in the construction sector brought a good return to Pension Fund L from the Tallinn stock market, as the shares of Merko and Nordecon rose by 18.8% and 17.2%, respectively. Investments in local banking also yielded good results: The shares of Coop Pank rose by 15.1% and Šiaulių bankas returned 12%.
International bond markets continue to be under pressure if interest rates rise. The prices of very long-term government bonds have already fallen by more than 10% since the beginning of the year. As countries support their economies during recovery from the coronavirus crisis, this may have the side effect of a price rise, which is a great fear for bond markets.
As we have already assured in our monthly reviews, LHV pension funds do not have any such long-term fixed-interest investments. Instead, we continue looking for new investments in local companies, and over the past month we have made significant progress with a few potential deals. However, large price movements in international markets may open up additional opportunities for us to make new investments there as well.
March 2021 – New investment in a Spanish airport operator
Kristo Oidermaa and Romet Enok, Fund Managers
The stock market indices of developed countries continued their strong upward trend in March. The Euro Stoxx 50 index, which tracks large European companies, rose by as much as 7.9% during the month, with the German, French, Italian and Swedish stock markets being among the strongest. For example, the German stock exchange index DAX rose 8.9% in March, and the return on the Stockholm stock market, measured in euros, was 8.5%.
However, the performance of the Japanese Nikkei index remained modest last month: 0.7% in local currency and -0.1% in euros. The global MSCI Emerging Markets Index was ˗1.7% in local currency. The decline was driven by Asian stock markets, led by China, where the index returned ˗6.1%. In the Baltic countries, the Tallinn stock market index rose the most by 3.3%. The Vilnius and Riga stock markets fell by 0.2% and 5.2%, respectively.
In March, we added Aena, a Spanish airport operator, as a new equity investment in the portfolio of Pension Fund L. Aena has airports in Madrid, Barcelona, Mallorca and the Canary Islands and a stake in London Luton Airport. We believe that European air traffic and tourism will recover reasonably quickly thanks to the COVID-19 vaccine and that Spanish resorts will continue to be popular destinations for holidaymakers.
The pension fund earned good returns from the Tallinn stock market: Coop Pank, Merko Ehitus and Nordecon all rose more than 10% due to the great interest of small investors.
In our bonds portfolio, we updated the terms of our Alexela investment. Since our investment in early 2018, the company has grown considerably and improved its results. Therefore, some of the restrictions imposed on the company by our bond were already unnecessary. As part of the amended conditions, the money will be returned to the funds in 2023, as much as five years earlier than initially planned.
Another noteworthy event among our portfolio companies was the public bond issue by Coop Pank, raising long-term capital at 5.5% per annum. Along with the growth of the bank's balance sheet total and the status of a listed company, the price of capital has fallen as expected. As a comparison, LHV Pension Fund L earns just over 7% interest on the investment made in Coop Pank bonds in 2017.
One of the tasks of pension funds is to provide capital to companies at the stage of development where public funds are still unavailable. In addition to higher returns for pension savers, this will boost local emerging businesses.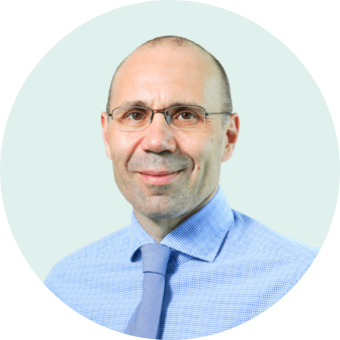 The state's increasing role is not conducive to long-term growth
Andres Viisemann, Head of LHV Pension Funds
May was a relatively calm month for securities markets, and the MSCI World Index, which measures global stock markets, returned zero in euros. The US stock market fell slightly (–0.9%), but the European market had a positive return (2.1%).
In recent years, cryptocurrency exchange rates have quite adequately reflected the risk appetite of retail investors in other markets as well but failed to do so this May. While many cryptocurrencies lost almost half of their value, the largest stock markets remained at record highs.
Inflation and interest rates
In theory, the prices of all assets should depend on the price of money, that is, the interest rate. The interest rate makes it possible to calculate how much future cash flows are worth today. As the price of money rises, the value of future cash flows decreases and vice versa. It is important to distinguish between nominal (contractual) and real interest rates. The real interest rate is obtained by deducting the inflation rate from the nominal interest rate.
In the wake of the global financial crisis, monetary policy has been exceptionally favourable almost everywhere in the world: central banks have bought up unprecedented amounts of bonds and pumped large amounts of money into the securities markets. This has led to rising asset prices and inequality but has not been reflected in rising consumer prices or wages.
Until recently, central banks tried to pretend that they did not finance governments directly but only bought up previously issued securities from the bond markets. By now, the governments of several major powers have almost ignored budgeting rules (in the short run) and are not even trying to cover expenditure with tax revenues. Thus, fears have begun to spread that politicians will not be able to hold back in the future, and rising government spending will revive inflation, a spook that has been considered dead in recent decades.
The next 18 months should clarify whether or not the acceleration in inflation over the last quarter will prove to be a short-term flash, partly due to last year's low base. We will also see how the central banks react and whether they will be able to do anything at all if the rate of increase in consumer prices accelerates further.
More planned economy
What makes the situation particularly worrying for me is that the most developed countries in the world abandoned a liberal economic order several decades ago. It happened when central bankers began to emerge as superstars who, in an attempt to eliminate economic cycles, began to manipulate the price of money as the most important commodity.
Since the 1990s, central bankers have encouraged both consumers and investors to borrow more and more at lower and lower interest rates to boost economic growth. However, real economic growth results from people's ingenuity and innovation, not playing at interest rates and buying up bonds.
The fact that governments and supervisors have added more new regulations in recent decades, driven by the noble cause of protecting the common person, has not improved the situation. By over-regulating, they have killed innovation and contributed to the emergence of increasingly monopolistic companies.
Although consumer prices have been on an upward trend recently due to a combination of factors, this trend is being counteracted in the longer term by population ageing in countries crucial to the world economy. I can imagine both an inflationary and a deflationary future, but I find it difficult to see how global economic growth could accelerate over the next ten years if current trends continue.
Investing in a confusing environment
Inflation affects us through goods and services and can also have a significant impact on pension investments. Suppose the faster appreciation of the consumer basket becomes a more permanent phenomenon. In that case, central banks will have to start turning off their money taps, reducing asset purchases and raising interest rates. However, as the global economy staggers under an unprecedented debt burden, even a slight rise in interest rates could put asset prices under pressure and reverse growth.
Even in a complex economic environment, it is possible to find good investments, but it is trickier than usual. I suspect that the "buy and forget" investment strategy will no longer work so well over the next ten years as it has over the last few decades. Also, choosing investments and navigating in a changing environment is becoming somewhat more important.
Of course, we are currently refraining from investing in long-term fixed (negative) interest rate government bonds, which guarantee a loss if held to maturity. Instead, we are looking for much higher returns over the counter. We recently invested in the bonds of a fast-growing renewable energy company.
In today's turbulent and complex economic environment, the shine of precious metals has gradually recovered, and we have kept an eye on the commodities sector more broadly since a lack of investment in this sector has led to supply failing to meet demand at current price levels.
Central banks are facing the difficult choice of whether to support the economy and finance governments. They hope that inflation expectations will fade on their own or to control inflation expectations and let some air out of the asset price bubble.
Monetary and fiscal policies will not favour asset prices forever. There is no point in hoping that governments will be able to finance ever-increasing budget deficits indefinitely at ever-lower (negative) interest rates. Investors should be prepared for both interest and tax rates to rise in the future and consider whether and what changes should be made to their investment portfolios.
May was a relatively calm month for securities markets, and the MSCI World Index, which measures global stock markets, returned zero in euros. The US stock market fell slightly (–0.9%), but the European market had a positive return (2.1%).