LHV Pensionifond L
Active Management • Progressive Strategy
0%
100%
Invests into Estonia
Suitable if
you have more than 10 years left until retirement,
you have average risk tolerance,
your aim is the long-term growth of your pension savings.
Strategy
The assets of the Fund are invested in various asset classes in both local and foreign markets. The Fund's assets may be invested extensively in unquoted instruments, which are primarily used for investing in securities issued by companies domiciled in the home market. The long-term preferred asset class of the fund is private equity investments.
Performance
The Fund's return is expressed as the net yield after deduction of all fees.
Current asset allocation

Information about the fund

Expenses

Documents

Fund's fortunes

Market overview
Biggest investments
The data is presented as at 31.05.2020
| Biggest investments | |
| --- | --- |
| EfTEN Kinnisvarafond | 4.21% |
| Luminor 1.5% 18/10/21 | 3.35% |
| Riigi Kinnisvara 1.61% 09/06/27 | 3.34% |
| German Government 2.25% 04/09/21 | 3.03% |
| German Government 3.25% 04/07/21 | 2.94% |
| iShares Gold Producers UCITS ETF | 2.88% |
| France Government 2.25% 25/10/22 | 2.68% |
| iShares STOXX Europe 600 DE | 2.12% |
| Barrick Gold Corp | 1.90% |
| East Capital Baltic Property Fund III | 1.84% |
Biggest investments in Estonia
| Biggest investments in Estonia | |
| --- | --- |
| EfTEN Kinnisvarafond | 4.21% |
| Luminor 1.5% 18/10/21 | 3.35% |
| Riigi Kinnisvara 1.61% 09/06/27 | 3.34% |
The data is presented as at 31.05.2020.
Information about the fund
| Information about the fund | |
| --- | --- |
| Volume of the fund (as of 31.05.2020) | 937,753,838.65 € |
| Management company | AS LHV Varahaldus |
| Equity in the fund | 2 400 000 units |
| Rate of the depository's charge | 0,0564% (paid by LHV) |
| Depository | AS SEB Pank |
Entry fee: 0%
Exit fee: 0%
Management fee: 0.60%
Success fee: 20% per annum on any increase in the fund's rate of return over the cumulative increase of Estonian social security pension contribution as of 31.08.2019.
Ongoing charges (inc management fee): 1.01%
The ongoing charges figure is an estimate based on the current management fee and the 2019 level of all other recognized costs. Ongoing charges may vary from year to year.
May 2020 – Private equity funds adjusted asset values
Kristo Oidermaa and Romet Enok, Fund Managers
Global equity markets continued to rebound in May and returns were positive on stock exchanges of developed countries as well as on most emerging markets. The Euro Stoxx 50 index, which brings together the largest stock companies in the euro area, added 4.7% during the month.
Finnish (6.9%) and German (6.7%) stock exchanges showed the best returns and LHV pension funds have also made large investments in the stock markets of both countries. The return of the Japanese Nikkei index was 8.3% in local currency and 5.9% in euros. The upward trend also continued on Baltic stock exchanges, of which Tallinn Stock Exchange showed the best return at 5.7% growth. Vilnius stock exchange ended up showing a 3.8% return, followed by Riga stock exchange with 2.4%.
In May, several private equity funds in L pension fund portfolio published their financial results for Q1: the value of investments was mainly written down. The share prices of listed companies had reacted to the pandemic and the expected recession already in March. For instance, the return of the Novalpina Capital Fund (the portfolio also includes Olympic casinos) for Q1 turned out to be –16.1%. The value of the shares of INVL Baltic Sea Growth private equity fund, however, decreased by 33.1%, mainly due to the temporary closing of InMedica chain of medical institutions, which is included in the portfolio, during the state of emergency.
Bond markets also continued to recover. Prices in May generally followed the principle that the more high-risk the borrower, the more the price of their bonds increased. Markets are clearly dominated by the view that central banks will cover all risks for investors. Whether this turns out to be true will be revealed in the following quarters along with the impact of the recession on individual companies and states.
We also made a new large investment when Lithuanian national energy company Ignitis borrowed money for 10 years with an interest rate of slightly over 2%. Some borrowers who are raising new money must currently pay a premium that is larger than usual in order to attract investors and thus Ignitis' bonds generated additional return for the fund in an amount almost equal to annual interest already by the end of the month.
April 2020 – New equity investments supported the growth of the fund's rate of return
Kristo Oidermaa and Romet Enok, Fund Managers
After a decline in February and March, the global stock markets began to recover rapidly in April, and the index MSCI World rose by 11.1% during the month. The good mood on the markets is mostly the result of record support measures promised by state governments. In Europe, the stock exchanges in Finland and Germany rose the most, with rates of return being 10.1% and 9.3%, respectively, in April. The value of Japanese Nikkei index rose by 6.7%, measured in local currency, and 7.9% in euros.
The global index of developing markets achieved a 9.3% outcome, whereas Asian stock exchanges were among the strongest. For example, the Chinese stock exchange index rose by 6.7% in a month.
Also, the Baltic stock markets have recovered well: the Vilnius stock index rose by 15% and the Tallinn and Riga stock exchanges offered a return of slightly above 11%. However; year-to-date, the Baltic stock markets still remain in the red, as is the case with all global markets.
The rate of return of pension fund L was supported in April by new equity investments made over the past few months. For example, the shares of Swedish companies Sweco and NIME Industrier appreciated on the Stockholm stock exchange by 23.9% and 11.9%, respectively. Also, the Finnish companies operating in the forestry and pulp and packaging industry gave a strong return. Out of these, the rise in the share price of Huhtamäki and Stora Enso was nearly 17% in April, while shares of forest machinery manufacturer Ponsse rose by 15.1%.
We took advantage of the increase in bond prices, by selling the subordinated bonds with extra-long maturity of Danske bank and Sampo bank. Despite the difficult times on financial markets, both investments guaranteed a nearly 10% rate of return during the 12–18-month suspension period.
There have been several price fluctuations among listed bonds, but considering the severity of the current situation in the real economy, the decline has still prevented the creation of attractive investment opportunities. We will be ready to respond promptly as soon as these open up, as we keep a considerable volume of highly-rated liquid bonds.
From our local bond investments, the activity of Transpordi Varahaldus (leases planes to Nordica) and the Peetri Centre are the most hindered. At the same time, state support for TVH and permission to keep open the grocery stores at Peetri Centre is of help.
March 2020 – We sold bonds to take more risks on share markets
Kristo Oidermaa and Romet Enok, Fund Managers
In March, the global stock market decline continued due to the spread of the corona virus and the fear of an economic crisis and, as a result, the first quarter of 2020 was one of the weakest ever for global stock exchanges. The Euro Stoxx 50 Index, which includes the large enterprises of the Eurozone, lost 16.2% of its value in March and fell by a total of 25.3% throughout the first quarter.
At the same time, the stock exchange indices of the largest European countries fell by more than 10% in March, and by more than 20% in Southern Europe. The value of the Japanese stock market index declined in March by 10%, measured in euros, and in the first quarter by a total of 17.4%. Stock markets in the Baltic Republics also continued to decline, with the Tallinn Stock Exchange dropping by a total of 20% in March. The Vilnius stock index dropped by 12.1% and the rate of return for the Riga Stock Exchange was –10.8%.
We took an advantage of declining markets to make new investments to the Nordic stock exchanges. For instance, in Sweden, we acquired the shares of Fabege, Sweco, and Nibe Industrier. Fabege is a company that develops real estate and has a very strong building portfolio in the city centre of Stockholm. Sweco advises infrastructure project implementers and is an industry leader in the Nordic countries. Nibe Industrier produces air heat pumps and energy-efficient air conditioners, while the Danish company GN Store Nord mainly produces hearing aids.
More things have happened in large bond markets in March than sometimes do over a period of five years. The spreading virus caused bond prices to drop and, what's more important, even the world's largest enterprises almost completely lost the opportunity to borrow any money.
Central banks intervened with measures that were essentially the same as those used during the crisis ten years ago, although they did so more vigorously and quickly this time: banks were offered support and, for the first time, loans were issued directly to enterprises. Nevertheless, at the end of the month the losses on the European and US corporate bond markets were still between 6% and 15%. On some markets, the rise of the last three years was wiped out all at once.
Although the measures employed by central banks helped to stop the price drop, the problem remains. The extremely low interest rates of the last decade have allowed many lower rated enterprises to become so indebted that, according to the latest assessment of the International Monetary Fund, around 40% of all enterprises may find themselves in default during the next crisis. This crisis has arrived.
As our monthly overviews have emphasised in recent years, we are mainly investing in high-rated and short-term bonds. Doing so has allowed us to avoid enterprises that have borrowed substantial sums of money as well as long-term bonds, which were hit in March.
Within a month we sold more than a quarter of the fund's bond investments and prepared our money for new investments. By the end of March, the majority of the fund's bonds portfolio (almost one-half) were the bonds of European Union governments and public sector companies.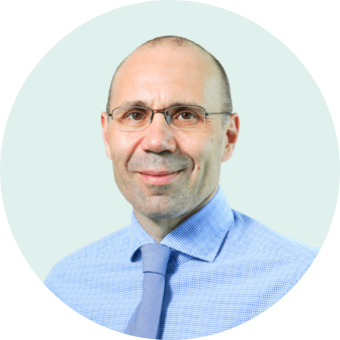 Cheap credit leads into temptation
Andres Viisemann, Head of LHV Pension Funds
There is no doubt that we are living in extraordinary times. At the end of March, the economies of the world's biggest countries were partly transferred to a special regime and many economic sectors were more or less shut down. Those who could do so worked from home, but not every product and service can be created and delivered to customers by virtual means.
In just a couple of months, an enormous amount of value went ungenerated around the globe. This was the price we paid to hopefully avoid even greater social and material ruin. The virus has yet to be conquered, but our adversary has grown a little more familiar. And the more familiar it becomes, the less fear it creates.
Stock investors, in particular, have shown themselves to be a fearless bunch. By the end of May, the S&P 500 Index, which reflects the stock prices of major US companies, had risen from its lowest point in March by 39%, while the EURO STOXX 50 Index, which reflects the value of large European companies, saw a 32% increase.
Although the pension funds of LHV were doing some aggressive buying on the stock markets in the second half of March, I could hardly have dreamt of such a rapid rise at the time. I do not think that such a reaction from the markets is adequate, even when taking into account the support packages issued by central banks and governments to keep the economy alive, which were unprecedented in their extent.
Although the stock markets are said to be an indicator of the health of the economy, empirically, this has not been the case for at least the last 10 years. Rather, the drop in interest rates on the bond markets has indicated what kind of economic growth might be expected in the future.
The stock markets, on the other hand, have followed the logic that bad news is good news. This means that when the economy is in a tight spot, central banks and governments come up with ways of avoiding a drop in asset prices.
During crises, such economic stabilisation may be justified. The problem, however, is that the economic model based on an ever-increasing leverage effect has become incredibly fragile and even the smallest rise in interest rates could lead to an economic crisis.
Investment or expense
I cannot agree with those who argue that taking out a loan is entirely self-evident and suppose that money borrowed today will basically never have to be repaid. I think it is dangerous to forget the wisdom of our parents: loans belong to others.
Taking out a loan in order to consume more now implies restricting consumption in the future, which is irrational. If everyone were to act in this way, it would mean a swift increase in wages today and serious unemployment tomorrow, should future consumption decrease more or less by the same amount previously spent.
Money should only be borrowed for investment, and this too only when the return on the investment will be higher than the interest payable on the loan. Otherwise, it reduces our full income as well as our wealth. In theory, this is easy to understand. In practice, however, the problem seems to lie in the fact that investment is rather a vague concept.
Flippant, careless and arrogant attitudes towards borrowing are further exacerbated by the fact that loans can be obtained with growing ease and lower interest rates. Can a cottage which stands empty for most of the year, requires heating during winter and work from time to time and on which land tax is payable be considered an investment?
Travelling and studying broaden our horizons, and offering self-development opportunities to youngsters assists in moving life forward, but is investment truly the right term for such activities? Not every good deed will bring in more money than is outlaid on it. Yet to make it possible for us to take any good and morally right actions, we must also be economically prudent.
How are your balance sheet and cash flow looking?
In light of the above, not every expense qualifies as an investment – only the allocation of funds preceded by a comprehensive cost-benefit analysis can be considered one. I suspect that companies conduct such analyses more thoroughly than individuals or governments.
This can already be seen in the fact that companies prepare an income statement, balance sheet and cash flow statement at least once a year. Governments do prepare a state budget, but I have not heard of them making any effort to put together a substantial balance sheet.
Many individuals do not analyse their expenses at all and spend as much money as they have in their wallet and bank account. The heavier the burden of debt, the more important it is to monitor your balance sheet and the movement of your money (i.e. your cash flows).
In today's rapidly-changing world, is a professional higher education diploma in, say, business management which is acquired with a student loan of any value if there are no specialist jobs to be found? Is a hospital, half-empty due to a lack of doctors and financed by credit, an asset or a liability?
A situation where the value of assets falls below the cost of liabilities is called bankruptcy. A situation where there is not enough income to service loans is called insolvency.
With growing indebtedness – even if interest rates are low at the moment – comes a higher risk of bankruptcy and insolvency because liabilities (loan amounts) are usually fixed, but asset prices can fluctuate enormously.
When interest rates are at a historic low, it is also dangerous to ignore the fact that such a development is in no way an indication of accelerating economic growth or recovery.
Presumably, it is also a sign of the times, exceptional as they are, that the most powerful country in the world is being led by a man who has declared, "I'm the king of debt. I love debt!" and whose CV lists the bankruptcy of four of his companies. In spring 2016, when then presidential candidate Donald Trump was asked about the future servicing and repayment of US government debt, he gave the following answer: "I would borrow, knowing that if the economy crashed, you could make a deal."
There is no doubt that we are living in extraordinary times. At the end of March, the economies of the world's biggest countries were partly transferred to a special regime and many economic sectors were more or less shut down. Those who could do so worked from home, but not every product and service can be created and delivered to customers by virtual means.