All necessary payment methods
The most detailed transaction report
POS terminals available throughout the Baltics and Finland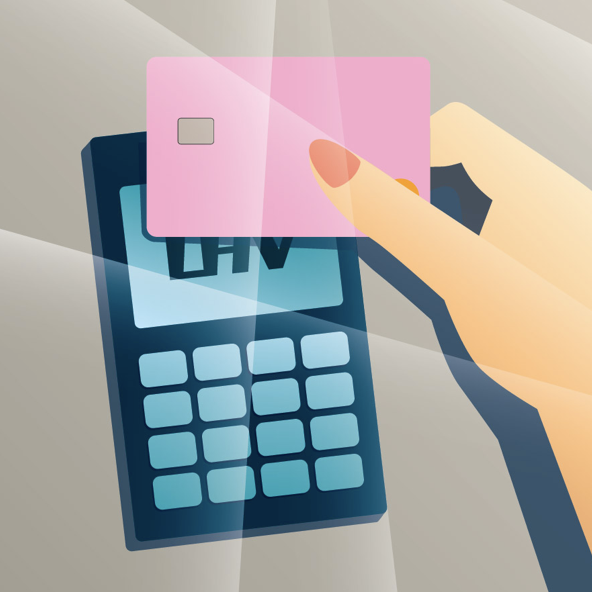 In-store payments
We offer a wide range of the best payment terminals. Every merchant will be sure to find a suitable one for their needs. A new-generation POS terminal featuring user-friendly design allows you accept payments conveniently and reliably at maximum speed.
Card payments over the internet or cellular network
The battery power source ensures mobile ease of use
Compatible with cash register systems thanks to PosXML-integration support
We install POS terminals and provide user training for companies within five working days. Maintenance and repair guaranteed within 24 hours.
We offer POS terminals with internet connection (LAN)
A terminal that runs on mains power. Not portable
A merchant will need to have an internet connection: the router with a free LAN socket within 3 metres of the terminal and a electrical socket within 1.5 metres
This is a suitable option if the merchant does not need to move around with the terminal or does not have a cash register system that needs to be connected to the terminal
The terminal can be connected with a Nets Estonia certified cash register system. The amount payable will be fed to the payment terminal automatically from the cash register system
Portable POS terminal with mobile connectivity (GSM, GPRS or 3G)
Battery-powered or mains-powered terminal. Portable
Includes the SIM card needed for mobile data
A good option for a merchant with no fixed POS or who wants to move around within the POS
Suitable if there is no internet connection but mobile data is available
Suitable if there is no internet connection but the merchant wishes to receive a two-part terminal (solution consists of terminal + smartcard reader)
Bluetooth portable POS terminal
Suitable if the merchant has an internet connection in the POS but needs to travel in more than a 200 metre radius from the radio unit
Suitable for a merchant who has a cash register system they need to connect to the terminal
The terminal can be connected with a Nets Estonia certified cash register system. The amount payable will be fed to the payment terminal automatically from the cash register system
Cash register system payment solution
A full payment solution connected to cash register system
LAN and Bluetooth payment terminals can be connected to the cash register system
---
Online payments
In cooperation with EveryPay, LHV offers a payment solution for e-stores that ensures the company has the best possible selection of payment methods for accepting payments on the web and in apps.
All of the methods of payment you'll need
LHV offers all necessary methods of payment to ensure that a company's e-store customers can pay for their purchases quickly and conveniently:
card payments online (Visa and Mastercard)
bank links: LHV, Swedbank (EE, LV, LT), SEB (EE, LV, LT), Luminor (EE, LV, LT), Coop Pank (EE), Citadele (LV), and Šiaulių bankas (LT)
mTasku
It's fast and easy to get started
Free modules for e-store platforms and separate AIP interface make it easy and efficient to add methods of payment:
Magento 2
WooCommerce
Prestashop
Shoproller
Voog
OpenCart
iOS ja Android SDK
Bank links – just like the customer wants
This is the easiest and most popular payment method for online purchases in the Baltics.
Namely, by concluding one agreement, bank links of all major banks operating in Estonia and the Baltics become available to you and each payment will be credited directly to your corporate account in LHV.
Standing order from bank card
Allows monthly payment for services provided regularly. Card payments are made automatically in the agreed amount at a fixed interval.
3-D Secure payments
LHV card payments are secure as we use the 3-D Secure protocol developed by international card issuers.
Redirect payment page
It is simple to add a redirect payment page to your e-store and the method of payment logo on the page allows customers to readily recognize it.
Checkout payment page
A good payment option directly in an e-store, with its own design.
---
Payment of invoices
Using a payment link, a customer can pay an invoice rapidly and conveniently the way they prefer.
LinkPay
This is a payment link that allows customers to pay an invoice using the method they desire. The payment link can be added to a company's website, or sent to the customer by email or text message, shared in a chat, added to an invoice or printed as a QR code. You define the payment link transaction data yourself. You can specify the amount payable or let the customer designate it. LinkPay functionality is also supported by the Directo and Standard books by Excellent accounting system.
LinkPay's possibilities
Pre-filled payment data
The customer can change the payment data, including the total
Design the payment link and add your own company's logo
Specify the expiration time of the payment link
One-time payments
Sign up for direct debiting
Card payment, bank links and Apple Pay can be selected as method of payment
Merchant portal
The EveryPay merchant portal gives you an overview of your online payments and the possibility to analyse them. The analysis is assisted by full payment history information and transaction filter and data export features. In addition, online card payment transactions can be cancelled. To prevent fraud, the merchant portal is equipped with a powerful smart fraud protection module.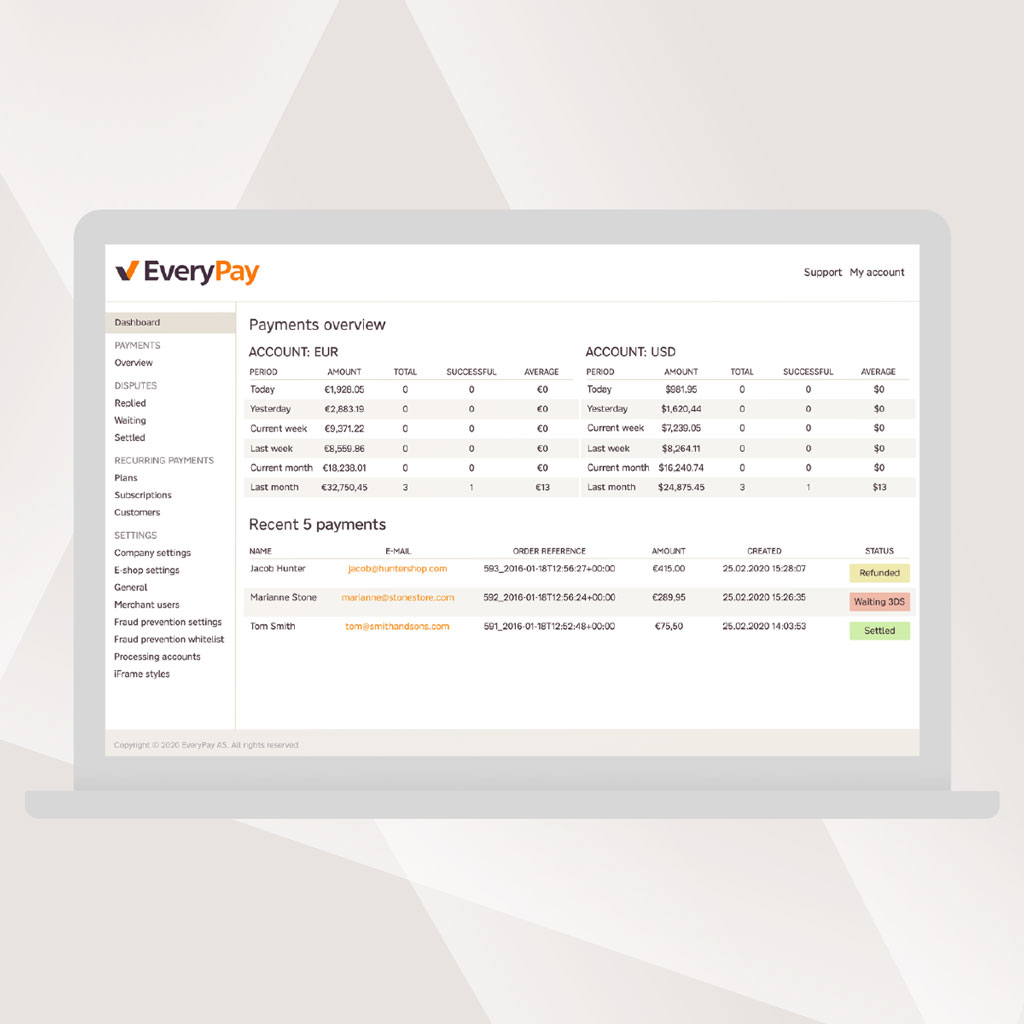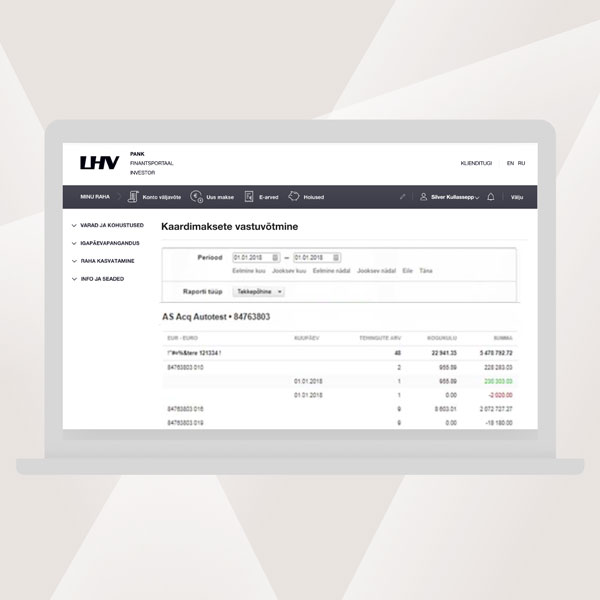 Overview of transactions and related fees
LHV internet bank generates a detailed payment acceptance report that ensures an overview of transactions in both accrual-based and expense-based view. If desired, download a detailed transaction-based report along with an overview of service charges.