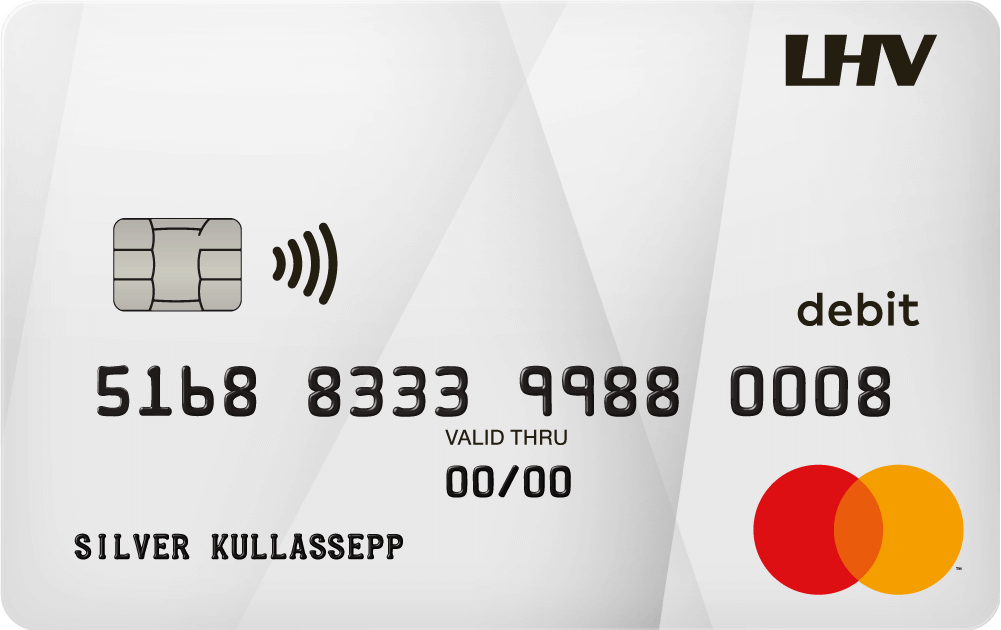 With the LHV Debit Card, you can pay in Estonia, abroad and online
Pay for your purchases in Estonia and abroad
Pay online
Make contactless payments
Pick your colour
Functions also abroad and online
You can use LHV cards to pay in Estonia, abroad, as well as online.
Contactless payment
With LHV cards you can make convenient and fast contactless payments. You can also pay with an Apple Watch, Garmin or Fitbit smartwatch.
Account number
The number of the account tied to the card is located on the rear of the card.
Card mailed to your home
We will mail the card conveniently to your home, free of charge.
PIN code
View card's PIN code in the LHV mobile app.
Read more
Price list and terms and conditions
Monthly fee

1 € (the monthly fee is valid for card holders between the ages of 26 and 65)

Issuing, renewal, closing

Free of charge

Replacement

5 €

Cash withdrawals

From LHV's ATMs: free of charge (+ 0.3% of any amount in excess of 2000 € per month)
ATMs of other banks: from the current account in Estonia and a contracting party to the EEA Agreement € 11 (+ 0.3% of any amount in excess of 2000 € per month) and, elsewhere abroad 2 € + 2.5% of the amount

Cash deposits

Free of charge at LHV ATMs

Information request from an ATM

Free of charge from LHV ATMs
From the ATMs of other Estonian banks 0.20 €
Documents and additional information