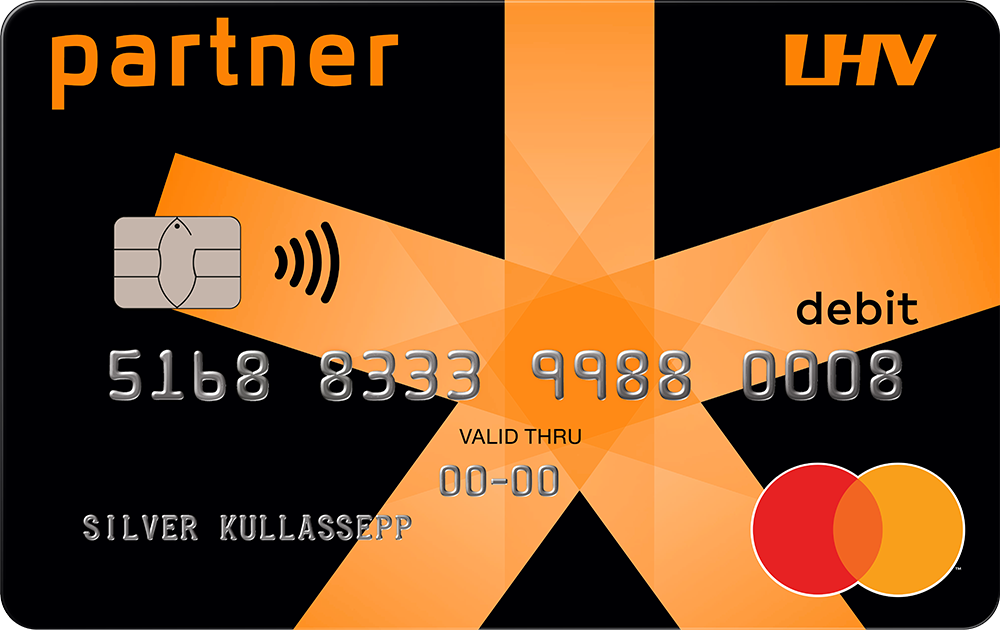 Two cards in one: a bank card and a Partner Card offering various discounts
When you pay with Partner Debit Card, your bonus is doubled
You can use the bonus whenever you want to get a discount at the stores of Tallinna Kaubamaja Grupp
From recycled plastic
Features of Partner Debit Card
Purchase bonus
With a Partner Debit Card, you will accumulate 2 cents discount as a purchase bonus on every euro you spend at Kaubamaja, Selver and I.L.U. Just register your purchase as a loyal customer and use your Partner Debit Card to pay for it. If you pay for the purchase with a different bank card or in cash and register your Partner Debit Card, you will receive 1 cent in discount as a purchase bonus for every euro you spend.
Loyalty discounts
With a Partner Debit Card, you will get a 5% discount on all goods at the Tallinn and Tartu Kaubamaja, I.L.U. and L´Occitane.
---
Functions also abroad and online
You can use LHV cards to pay in Estonia, abroad, as well as online.
Contactless payment
With LHV cards you can make convenient and fast contactless payments. You can also pay with an Apple Watch, Garmin or Fitbit smartwatch.
Secure card payments online
To ensure security and raise the feeling of confidence when making payments on the Internet, LHV has added a new security feature to its bank cards. After entering card data and the confirmation code, you must log in to the LHV internet bank as an additional form of identification, or use the security code sent to your mobile phone via SMS.
Read more
Card mailed to your home
We will mail the card conveniently to your home.
Account number
The number of the account tied to the card is located on the rear of the card
Invest with every card payment
Microinvestment enables you to grow your investment portfolio without even noticing, investing up to 1 euro to your Growth Account with each debit card payment.
Read more
Price list and terms and conditions
Monthly fee

1 € (the monthly fee is valid for card holders between the ages of 26 and 65)

Renewal, closing

Free of charge

Replacement

5 €

Cash withdrawals

From LHV's ATMs: free of charge (+ 0.3% of any amount in excess of 2,000 € per month)
ATMs of other banks: from the current account in Estonia, the United Kingdom and a contracting party to the EEA Agreement € 11 (+ 0.3% of any amount in excess of 2,000 € per month) and, elsewhere abroad 2 € + 2.5% of the amount

Cash deposits

Free of charge at LHV ATMs

Conversion fee for transactions in foreign currencies

1% of transaction amount

Information request from an ATM

Free of charge from LHV ATMs
From the ATMs of other Estonian banks 0.20 €