We calculate our annual carbon footprint with a goal of making our office operations climate neutral by 2022.
Greenhouse gas emissions must be reduced significantly to avoid the worst consequences of climate change. Our office activity also generates emissions - both directly and indirectly. Mostly, l due to the use of heating, power, and travel.
What have we already accomplished?
We have collected data and run the calculations. We have found that in 2019, LHV's office activity had a greenhouse gas emission footprint of 1210 tonnes of CO2-equivalent, which is 2.6 tonnes per employee. For 2020 the results were 865 tonnes, or 1.7 tonnes per employee:
66% came from the use of heat and power,
27% from employees commuting to work,
4% came from business trips,
3% came from office expenses, such as paper, water and waste.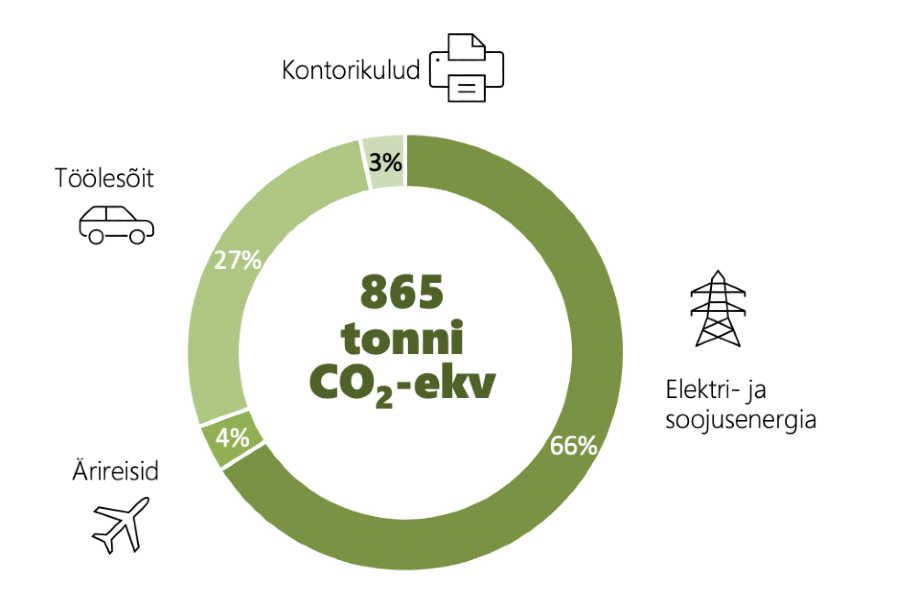 We have put together a climate neutrality achievement plan in order to operate more sustainably and reduce our negative environmental impact. We have already made the transition to electricity furnished with a green energy certificate, which has cut emissions by 30%.
We calculated our footprint based on the internationally recognized Greenhouse Gas Protocol.
Offsetting the negative carbon footprint – In August 2021, we started cooperating with eAgronom to offset the negative impact of LHV's office activities. Through eAgronom, we support intercropping in agricultural fields. This makes it possible to capture greenhouse gases from air, improve soil quality, and reduce the need for fertilisation.
LHV's principles for offsetting our negative carbon footprint:
Offsetting must be an additional activity
Clarity and transparency of emissions accounting
Permanence
Exclusive claim to GHG reductions
Avoiding of environmental or social harms
Locality


What are we planning for the future?
We will repeat and refine the calculation each year. Based on which additional categories we are able to gather reliable data in, we will strive toward a fuller picture.
What is the final goal of the project?
The goal is to make our office activity climate-neutral by the year 2022.
Even though our greatest environmental impact comes from financing and investing activities, it is no less important how we administer our business every day. That's why we wanted to make sure that our own consumption is sustainable, that we keep our house in order and serve as an example on all fronts of the effort to meet climate goals.