LHV Football Card will help you support your favourite team – 0.25% of all your purchases will go into the support fund of the football team of your choice. LHV Bank will double the amount.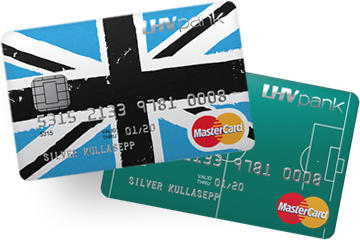 By opting for the LHV Football Card you will support football
You can either support the Estonian Football Association (EJL) or any Estonian football club you like. You can support any football club in Estonia – a Champion's League club or a lower league club, a woman's club or a youth club.
Take a look at the list of Estonian football clubs
LHV Bank is the main sponsor of football in Estonia
LHV Bank is a long-term supporter of Estonian football both on the national level as well as the youth club and local league levels.
Discounts
At least 10% off the tickets to the home matches of Estonian national team games
At least 10% discount on the tickets on the Estonian national team's charter flights
Free entrance to the home matches of the Estonian youth national teams
20% off the price of football equipment at Sportland stores
A discount membership fee of €12 at MyFitness – (normal fee €25)
A 15% discount on all services and parts at ABC Motors
10% off on all normal price products at Baltman stores
Football clubs
Estonian National Football Team
Estonian Football Association
NPO Jalgpallihaigla – the supporters of the Estonian National Football Team
Premium League
FC Infonet
FC Kuressaare
FC Levadia Tallinn
JK Tallinna Kalev
Narva JK Trans
Nõmme JK Kalju
Paide Linnameeskond
Sillamäe JK Kalev
Tallinna FC Flora
Tartu JK Tammeka
Premier League
FC Puuma
Jõhvi FC Lokomotiv
Kiviõli FC Irbis
Rakvere JK Tarvas
SK 10
Viljandi JK Tulevik
Vändra JK Vaprus
Premier League B
FC Ararat TTÜ
FC Elva
HÜJK Emmaste
Kohtla-Järve JK Järve
Pärnu Linnameeskond
Tallinna JK Dünamo
Tallinna JK Legion
II League
FC M.C.Tallinn
FC Maardu
FC Metropool Pärnu
FC Nõmme United
FC Santos
FC Tarvastu
JK Baltika Keskerakond
JK Kaitseliit Kalev
JK Luunja
JK Tallinna Ülikool
JK Welco Elekter
Jõgeva SK Noorus 96
Keila JK
Koeru SK
Kärdla LM
Lasnamäe FC Ajax
Loo JK
Raasiku FC Joker 1993
Rummu Dünamo
Saue JK Laagri
Sörve JK
Türi JK Ganvix
III League
Ambla Vallameeskond
Eestimaa Kasakad
EMÜ SK
FC Balteco
FC Eston Villa
FC Hell Hunt
FC Kose
FC Lelle
FC Olympic
FC Otepää
FC Tartu
FC Ðtrommi
FCF Järva-Jaani SK
JK Jalgpallihaigla
JK Tartu Löök
JK Tondi
JK Tõrva
JK Visadus
Kernu JK Kadakas
Kristiine JK
Kuusalu JK Rada
Leisi JK
Lihula JK
Läänemaa Jalgpalliklubi
Maccabi
Märjamaa Kompanii
Navi Vutiselts
Põlva FC Lootos
Rapla JK Atli
Saaremaa JK
Saaremaa JK aameraaS
SK Tääksi
Suure-Jaani United
Tallinna FC Akhtamar
Tallinna JK Piraaja
Trummi SK
Valga FC Warrior
Võru JK
IV League
FC Aspen
FC Haiba
FC Kiiu
FC Majak
FC Majandusmagister
FC Pokkeriprod
FC Soccernet
FC Toompea 1994
IAFA Estonia
JK Pärnu-Jaagupi
JK Suema/Cargobus
Pirita JK Reliikvia
PSK Alexela
Pühajärve JK Revali
Saku Sporting
SK Imavere Forss
SK Mercury
SK Tapa
Taebla JK
Tallinna FC Charma Mööbel
Tallinna FC Dnipro
Tallinna FC Reaal
Tallinna FC Twister
Tallinna TopSec LiVal Sport
Tartu FC Merkuur
Tartu Harrastajad
TÜ Fauna
Viimsi FC Igiliikur
Women's Clubs
Youth clubs
FC Helios
FC Kotkas
FC Ülenurme
Haapsalu FC Flora
JK Augur
JK Irbis
JK Merkuur-Juunior
JK Püsivus Kohila
JK Tabasalu
JK Tsempion
JK Vasalemma
Lynx Aurum
Martin Reimi JK
MTÜ Harju Jalgpallikool
Paide Sport
Pärnu JK Vaprus
Pärnu Kalevi SK
Põltsamaa Sport
Raplamaa Jalgpallikool
SC Real
Sparta
Spordiklubi Everest SK
Viljandi SK
Viru-Nigula Spordiklubi